Nostalgia's a funny thing. It nags us when we least expect it, triggered by a smell or a phrase or some odd sensation that's burrowed for years. It's bittersweet, a rose-colored take on what's shaped and inspired us for years. Watching The Muppets is uncut nostalgia, multiplied a dozen times over, with hand puppets. There's rarely a scene that unfolds that doesn't tug at an old memory about Jim Henson's troupe of vaudeville creatures. Fozzie's still mugging with bad jokes and a goofy smile. Miss Piggy hasn't stopped karate chopping fools and preening over her hair. Animal remains, well, an animal. And Kermit, always a stand-in for Jim Henson's hopes and dreams and feelings, still has that incredibly expressive face that's capable of anything with the flick of a wrist.
But, even the lesser of the Muppet movies have carried those qualities. No, there's a different reason why The Muppets, directed by James Bobin, taps into what fans love and remember — it recognizes the weight those memories carry for so many, then plumbs that meaning in the present tense. How, it asks, did the Muppets manage to fade from relevance?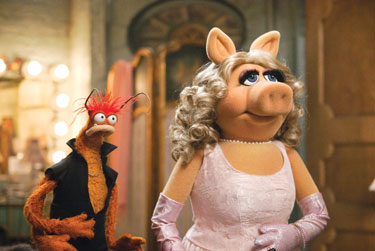 The Muppets
And that's where the passion floods in. Within minutes of the opening credits, Jason Segel, who stars in the film and co-wrote the script with Nicholas Stoller, is quickly spotted as a Muppets superfan. He packs each scene with affectionate winks to past Muppets minutiae, while playing on camera with an enthusiasm that suggests the movie was as fun to film as it is to watch.
His story is simple enough: Alongside an adopted brother, Walter (voiced by Peter Linz), Segel's Gary was raised on the Muppets as a kid. As Gary hit puberty, starts dating the love of his life, Mary (Amy Adams), and generally eases into adulthood, Walter holds onto Kermit and the gang; they look like him, and that's just about all he's got. During a sightseeing trip to Los Angeles, Walter learns that the long-decrepit Muppet Theater is slated to be demolished by oil magnate Tex Richman (Chris Cooper). To stop Richman, he enlists Gary and Mary to help track down the Muppets for one last reunion, a theater-saving telethon.
It's a common conceit for Muppet movies — the gang is separated, they're tasked with a seemingly impossible financial goal, they can only succeed by working together. If you know the Muppets, you know the story. What separates this run, though, is an awareness of that story; Segel and Stoller smartly frayed the edges and rubbed in a pinch of grit. (Kermit and Fozzie, to mention one bit, haven't spoken to each other in years.) While some fans — and Frank Oz, who does not appear in the film — have groused about the implications of that tone, I thought that added an unexpected, yet poignant, heft to the gang's eventual reunion. Even Walter, the drip that he is, doesn't strike as a mistake for The Muppets. He's more a cipher for Segel's loving fandom than a Poochie-like disaster — and, it can't be forgotten, he's the anchor for the film's message about finding courage in identity. This is, after all, technically still a movie meant for kids.
THE MUPPETS




Starring
Jason Segel, Kermit the Frog
Rated PG
98 Minutes
Now Playing
Area Theaters
That's the other thing about nostalgia — if we spend too much time considering how something fits into what we already know and love, it's all the more likely that we miss the point. The Muppets is fueled by what we remember, but it's also sweet and funny and all of its own. It's not a shadow of something passed — it's a reflection.
Click here to take our quick Muppets poll and enter for a chance to win movie passes!
MY WEEK WITH Marilyn is nothing if not fun. Sure, it's probably awards-season catnip. And, okay, it's not the most thoughtful fare, but damn is it a joy.
The film follows the allegedly true story of Colin Clark (Eddie Redmayne), a production assistant on The Prince and the Showgirl, a 1956 movie starring Marilyn Monroe (Michelle Williams) and Laurence Olivier (Kenneth Branagh). Clark, in two books that inspired the movie, wrote about his experiences on set — including a short tryst with Monroe, who was married to Arthur Miller at the time.
In spite of a thin story, there's just a lot to love. From open to close, director Simon Curtis's camera cuts and jives and sprints, pacing itself just past the limits of controlled chaos. Michelle Williams coos and cries and has all those fantastic Norma-Rae-or-Marilyn-Monroe mannerisms down pat, while Kenneth Branagh steals scenes as a steaming, hammy Laurence Olivier. It's not a great movie, or even a very good one, but My Week With Marilyn still sings like an old Hollywood standard.
MY WEEK WITH MARILYN




Starring
Michelle Williams
Rated R
99 Minutes
Now Playing
Area Theaters
Which is to say, Williams's Monroe is steeped in cultural perspective. She's everything that we've impressed on Monroe's memory — tortured, manipulative, enigmatic and beautiful. What's ultimately missing, however, is a sense of her reality. We're told that she was managed (and drugged) by her handlers to a fault, and that she's torn over their attention, but what's past that? Was Monroe really that manic, that dreamlike, that maddening? If Adrian Hodges's script knows, it's not telling.
Call it nitpicking, but My Week With Marilyn ultimately stumbles by missing that answer. Clark's book, famously, suffered from an unreliable narrator. Save for trusting his word, we never know if he's telling the truth. Still, Curtis delivers that story authoritatively, without a sense of fallibility. Williams's Monroe, as entertaining as she is, doesn't deserve that truth.