When it comes to drag, D.C. may not have the recognition of San Francisco or Sydney. But if the Miss Gay America pageant is a good indicator, maybe it should.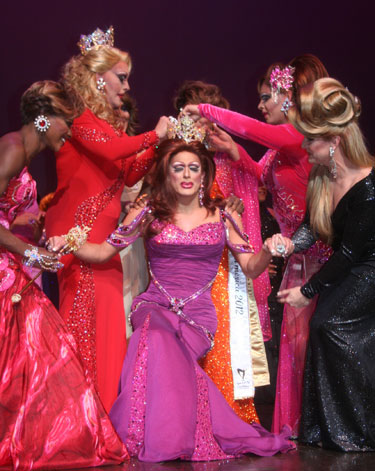 Kirby Kolby crowned Miss Gay America 2012
(Photo courtesy MGA Pageant )
Last month, Kirby Kolby won the title Miss Gay America 2012, at the pageant's 40th anniversary show in Columbus, Ohio. As reigning Miss Gay D.C. America, Kolby's win marks back-to-back wins for D.C. title holders, with Miss Gay D.C. America 2010 Coti Collins preceding Kolby as Miss Gay America 2011. Add to that Miss Gay D.C. America 2008 Victoria DePaula's run as Miss Gay America 2009.
"This was the third time in four years for D.C. to win," says Robert York, whose Cocker Productions manages the Miss Gay DC America Regional Pageant, adding that the mood in Columbus exceeded expectations for this milestone pageant.
"It's always like a big family reunion," he says. "People are blown away by the amount of talent and beauty."
As for Kolby, who passes her time offstage as Mark Smith of Raleigh, N.C., the win is an opportunity to keep bullying in the spotlight. That's the issue she's chosen to bring attention to as a titleholder.
"I was bullied as a child myself," Smith says of growing up in rural North Carolina. "I want people to believe in themselves. We're all created equally."