At first glance, Sharon Lettman-Hicks doesn't seem like your typical LGBT activist.
For starters, she's a straight woman. She's married to a military husband. She proudly says she was raised with "strong Christian values." But LGBT people, especially those of color, would have a hard time finding a more passionate advocate who demands nothing less than their full equality and freedom to express their identity.
Just don't call her an ally.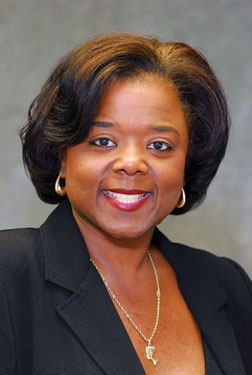 Sharon Letterman-Hicks
"I hate the word 'ally,' because I don't consider myself an ally," she says. "I consider myself a sister in a movement, because to me it is a family affair and black LGBT people are my brothers and sisters."
Currently serving as the executive director of the National Black Justice Coalition (NBJC), a civil rights organization dedicated to empowering black LGBT people by fighting racism and homophobia, Lettman-Hicks describes her involvement as a fierce advocate for LGBT equality as part of a "natural migration" resulting from her own experiences facing discrimination from within the African-American community.
Growing up as the dark-skinned child of Hispanic immigrants, Lettman-Hicks says she often faced discrimination from both the Latino and African-American communities, who were unsure of how to deal with her. A personal battle with obesity during adolescence also made her a target for discrimination.
"It's very cultural for me," she says of the struggle of black LGBT people to gain acceptance, particularly within the African-American community. "It's very much a part of my DNA. And how dare anyone, especially within our cultural community, deny another black person the right to be whole after all we've overcome after generations and centuries as a people?"
In October 2009, after eight years working for People for the American Way Foundation, Lettman-Hicks joined NBJC, where she began working on initiatives to engage the black church community on LGBT issues. At times, she wages a two-front effort on behalf of the black LGBT community to earn recognition and respect as a potential partner from both LGBT and black organizations.
"My first responsibility is to remove the black-on-black crime against black LGBT people within the black community," she says. "I coin it, 'We are black, too.' And it's also to build more inclusion of recognition of the beautiful black talent within the LGBT community."
But she says there are some significant hurdles to those goals.
"As far as I'm concerned, black people still live by 'Don't Ask, Don't Tell.' Culturally, it's not a social issue that we talk about, because of some of the overt homophobia – and at the same time, not wanting to take on mommy, daddy, uncle, aunty. It starts in the family. And then it's in the schools, in the community."
To begin addressing some of those issues, including the bullying of black LGBT youth in schools and violence against LGBT people, NBJC has begun an outreach and education campaign to a number of black media outlets, including Black Enterprise magazine, Essence magazine and the Tom Joyner Morning Show.
"I think people can count on the National Black Justice Coalition to be on the forefront of bringing awareness of black LGBT issues, challenges and triumphs to the black community in a much more deliberate way," says Lettman-Hicks.
With Nov. 20 marking the annual Transgender Day of Remembrance, Lettman-Hicks says it can – and must – move beyond simply memorializing victims lost to anti-transgender violence or bias, which has recently increased to a level Lettman-Hicks characterizes as a "crisis situation."
"I think this is going to be the time where the 'urgency of now' will prevail. I think that this particular anniversary is not just about remembrance, but about how the level of violent crimes against the transgender community has escalated at a more aggressive and accelerated level.
"We can see this year in remembrance as a time to do a call for action. … It needs to be more on an 'Occupy Wall Street' level, where it's much more speaking out in solidarity, it's a much more strategic arm. We're declaring this day as a kick-off to a much more aggressive strategy of recognition and education about the challenges within the transgender community, particularly around violent crimes."
For more information about the National Black Justice Coalition, call 202-319-1552 or visit nbjc.org.