Get comfortable. Maybe in your couch or favorite chair. I'd recommend organic snacks. A beer, if you're so inclined. And only once you're truly settled should you hit play on Thunder Thighs, the new album from the socially conscious "anti-folk" artist Kimya Dawson. At 65 minutes and 16 tracks, Thunder Thighs is not for the short of focus. But carve out some time and you'll be rewarded: Every word counts.
Dawson, who will appear at the Black Cat Friday, Nov. 11, had something to prove with Thighs, her first solo album since 2008 children's album Alphabutt. Both come on the retro-print heels of the massively successful Juno soundtrack. The film itself both defined and killed the idea of twee as a tolerable mode of expression. Dawson created most music featured in the film, some with her former Moldy Peaches partner Adam Green. Though Dawson's music is far from being precious, it was necessary to rally against a fully unearned reputation for NPR treacle.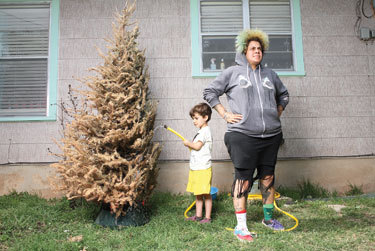 Kimya Dawson
(Photo by Chrissy Piper)
Thunder Thighs is not simply "dark." FX's American Horror Story is "dark" and that show lacks the depth or sophistication of Dawson. Throughout the tracks — which range in style from near-Appalachian neo-folk to hip-hop tracks produced by Aseop Rock — Dawson displays an honesty so pure and brutal that it borders on childlike. This innocence is fitting, as one of the album's three main themes is the changes wrought by motherhood. Dawson's 5-year-old daughter Panda even guests on the track "The Mare and The Bear." Its intricate piano lines and stomping energy are far from mere novelty. The upbeat "Library" might be the only song on Earth that can elicit dancing among shout-outs to notoriously depressing children's author Robert Cormier.
The other themes are Dawson's continuing recovery from substance addiction and the world-changing necessity of individual self-expression. Three long tracks — anchored by Dawson's voice and a piano — form an unshakable foundation to the rest of the album's genre hopping.
"Same Shit Complicated" is the most direct attack on liberal smugness. Dawson is fiercely anti-consumerist — as shows on the song's lyric "all you care about are dollars, how does that make sense" — but doesn't guilt or attack those who can't share her placid, chicken-raising lifestyle. A line like "Just because someone doesn't look like me doesn't make them a clone or a sheep" is a refreshing message, allowing room for both the punk-rock activist and minivan professional alike.
"Driving, Driving, Driving" takes environmental carnage wrought by the quest for oil and makes it vivid. "They're burning turtles alive" is more heartbreaking than a thousand photos of the BP oil spill. "Now that I'm a mother this is really terrifying," vocalizes a timely fear that the planet is going to shit while still finding hope in a younger generation.
Most unforgettable is the title-inspiring "Walk Like Thunder." The 10-minute powerhouse of storytelling opens with Dawson recovering in the hospital, tubes in her mouth, from an unnamed overdose. She goes from her own struggle to recount the deaths of two queer individuals that put her own decline into perspective. The first is a club manager named Ammi who created a space "where a bunch of honest misfits could gather and feel safe." The second a transgender woman named Alex who succumbs to cancer, "trapped inside a body that betrayed his real gender" before he could "complete his transition."
KIMYA DAWSON
Thunder Thighs
Great Crap Factory
$12.68




Appearing Live
Friday, Nov. 11
The Black Cat
1811 14th St. NW
blackcatdc.com
The refrain "Walk like thunder," first used in "Driving" as a call to walk without destruction through an ailing planet, is repeated here as a mantra of strength. Given first as post-OD advice for how to keep her life going, the loss of Dawson's friends changes the meaning to one of perseverance though a life that Ammi and Alex lost the ability to take for granted. A simple piano accompaniment allows Dawson's spare vocals to do the heavy lifting. By the time a backing choir comes in and Aesop Rock delivers the closing rap, your beer will be empty and you won't have much remaining appetite for soy jerky. You'll be glad you're sitting down.
Luckily, Dawson lets the track stand on its own and finishes out the album with a series of uplifting songs featuring more than just a piano and her own singular voice. The track "Reflections" repeats "everything you do, reflects on you" with goofy high-pitched voices and lively piano accompaniment. The relief continues with "Refined" and its cry of "fuck you sugar, fuck you wheat" in search of a healthy diet.
Finally, "Utopian Features" ticks out the upside of the apocalypse. A country cousin to Talking Head's "Nothing But Flowers," an acoustic guitar and vocal harmony create a post-economic future where the current pitfalls of money and ownership give way to a world where we've learned from our mistakes. Dawson imagines "a place outside the box" where "children grow with names they chose and genders all their own."
The sadness of tracks like "Walk Like Thunder" keep this sentiment worlds away from formless liberal idealism. Instead, Dawson takes an hour to describe how a life falls apart and to offer some solutions — children, tolerance, sustainability — that transcend unattainable liberal idealism. She makes them actually sound viable.