"The great irony is the fact that we're so associated with the gay dance world and the queer scene — [but] we're actually pretty much all straight," says Andrew Raposo.
Well, pretty much. Raposo's band Jessica 6 is actually fronted by transgendered singer Nomi Ruiz.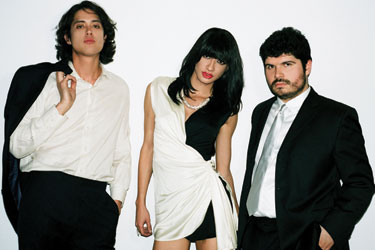 Jessica 6
(Photo by Ruvan Wijesooriya)
Still, it's not the band's makeup that gives it its queer credentials. The band — comprised of vocalist Ruiz, bassist Raposo and keyboardist Morgan Wiley — grew out of the neo-disco collective Hercules and Love Affair, led by gay singer Andy Butler.
"We would often hang out after the show in the back of the Hercules bus, while everyone else went to bed," recalls Raposo. The trio would "watch horror movies and talk about records," and eventually decided that they should write their own music. They've since developed a sound that transcends disco to incorporate hip-hop, soul, even psychedelic rock. Though the band's name comes directly from a character in the 1976 film Logan's Run, it's also meant to pay homage to Vanity 6 and others from Prince's old musical family.
You can hear the homage to R&B and early electronic music on the band's debut album See The Light. The title track echoes Grace Jones; "Freak The Night" sounds like something DJ Jazzy Jeff might have produced; and "Blessed Mother" could have come straight from Vangelis's Blade Runner soundtrack.
Even the noted Hercules guest vocalist Antony Hegarty appears here, singing on the heady, jaunty jam "Prisoner of Love," featuring a bridge with a classic house breakdown. It deserves to become a club hit.
"Our record is sort-of a tapestry of lots of different elements," says Raposo, a native New Yorker who met Wiley in the late '90s while in college, bonding over a shared love of rap.
Though straight, Raposo likes to think of queer culture as all-inclusive, beyond mere sexuality. "It's all about a certain way of thinking, a certain way of being and a certain kind of music.
"I love the fact that people often think I'm gay," he continues. "I love that there's [some] mystery."
Jessica 6 opens for Holy Ghost! 'Wednesday, Nov. 23. Doors at 7 p.m. 'Nightclub 9:30, 815 V St. NW. Tickets are $20. Call 202-265-0930 or visit 930.com.