Someone once called DJ Paulo a "pots and pans" DJ.
"People who don't understand what I do and who don't understand rhythm as much, they call it 'pots and pans,"' says the gay, mono-named tribal house DJ. "[But] even if every song doesn't have vocals, it still has melody and rhythm."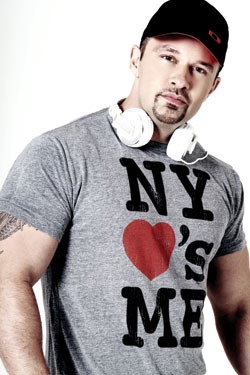 DJ Paulo
In reality, Paulo's driving music is as powered by vocals as it is by beats. He describes his sound as "tribal, with vocals." And he's become one of the gay scene's most sought-out DJs in part because of his sophisticated and satisfying remixes and mash-ups featuring gay-popular singers.
For example, there's the mash-up he calls "Vogue-ing In The Dark," which combines samples from Lady Gaga's "Dance In The Dark" and Madonna's "Vogue," as well as a few others. "It's one of my staples that I always play live but I've never given out," says Paulo, who helps compile the Billboard dance music chart.
Chances are, Paulo will play the mash-up this Saturday, Nov. 12, at Cobalt, when the Los Angeles resident returns to his American hometown. Born in Portugal, Paulo was raised from the age of 10 in Bethesda by his parents, who were Portuguese diplomats. While attending Walt Whitman High School in the '80s, Paulo would go to D.C.'s former gay clubs Badlands, Tracks and Lost and Found. He started collecting the high-energy music he heard — "I literally would use all of my allowance and buy 12-inch singles," he says — and then make mixtapes for his friends.
It wasn't until Paulo moved to Paris for college that he started DJ'ing in public, at a Thursday gay party. And it wasn't until years later, in the '90s, that he started making his name in the U.S. after settling in sunny California.
Paulo spends generally three out of four weekends on the road, but he's always in L.A. during the week, when he offers personal training to a few clients as a side business. That's also the time when he can dote on his dog Lucy, a terrier mix he lovingly calls "my little tribal bitch." Lucy rarely travels with him.
In recent years Paulo has expanded his fan base by creating one of the most reliably consistent dance music podcasts around. He generates on average 10,000 downloads the first week he posts a new episode. "My podcasts are really full-on productions," he says. "Literally every track is edited or remixed or mashed-up."
Paulo thinks his forte is DJ'ing for after-hours parties, when he's able to get darker, sexier and heavier with his music. He produced a rhythm-heavy track, which has since become another of his staples, featuring notorious house-music artist Alan T.
"The track has amazing drums," he says. "It's funny because people are dancing to it, and then they hear Alan T say, 'If you don't like pots and pans, then get out of my kitchen."'
DJ Paulo spins Saturday, Nov. 12, after 10 p.m., at Cobalt, 1639 R St. NW. Call 202-232-4416 or visit cobaltdc.com.