So maybe he overshared a bit.
In his Coverboy profile last May, Tyler Coffey revealed the most unusual place he's had sex. "A lifeguard station in South Beach," he responded.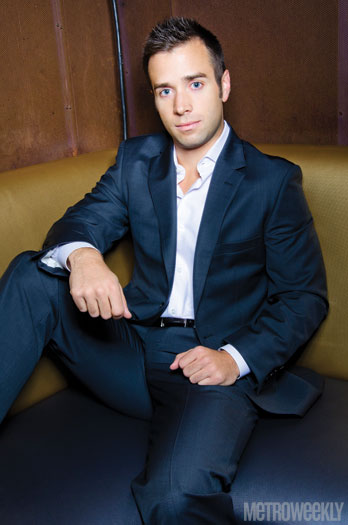 "No, it's not the worst thing to have published," Tyler says now. "I'm out to my family, but there are some things family doesn't need to know."
"One of my aunts over Thanksgiving congratulated me and told me that she read the entire article," he says. Meanwhile, his dad heard about the Coverboy of the Year competition from a Facebook post by Tyler's twin brother. "He was like, 'Oh, you did this?' He thought it was really cool."
Tyler decided to pose as a Coverboy in the first place as a reward for putting in so much time working out. "I got a little more serious about going to the gym a couple of years ago," he says. "After doing it for a few months, I needed something long-term to motivate myself."
The 27-year-old stands at 5'7" and weighs a lean and mean 155 pounds, but he once topped the scales at 185 pounds.
"I wouldn't say I was fat, but I was definitely heavy," he says. "I didn't grow up eating terribly well. I've learned all that since." Though he still breaks for dessert — chocolate, cookies and especially ice cream — to feed what he calls his "inner fat girl."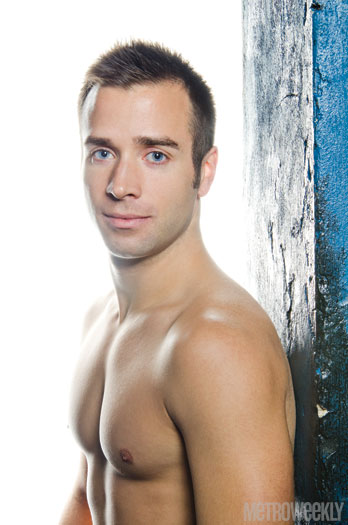 "Anybody who has watched me eat can attest to the fact that she exists," he says.
Tyler grew up in Maine in a conservative Southern Baptist household. Yes, Southern Baptist in Maine. "There are pockets of real conservatism in Maine, and my parents happen to fall into one of those," he explains, referring to his mother and stepfather. (His dad and stepmom are "very liberal, the complete opposite.") "My mom became born again when I was 13. … When it comes to gay issues, our relationship is tenuous."
When Tyler was 16, he expanded his horizons by applying to study in Germany for a year through the Congress-Bundestag Youth Exchange program. "That really became the cornerstone of thinking independently for myself," Tyler says. Once he returned, he realized he wanted to live in a big city. He opted to study international affairs and German language and literature at George Washington University, and ended up loving D.C. so much he's lived here longer than anywhere else. His two-bedroom condo is just a block north of the U Street Metro.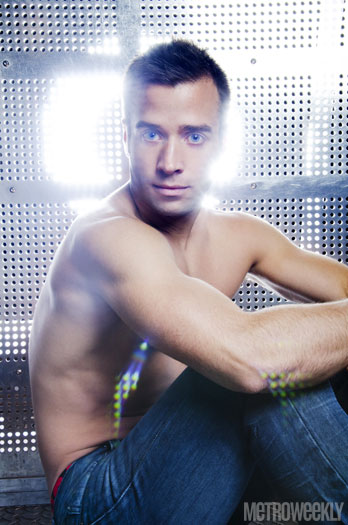 Tyler
(Photo by Julian Vankim)
Studying in Germany also helped Tyler establish his own identity apart from his identical twin brother, Dan.
"We hated each other growing up," he says. "A lot of people who aren't twins don't understand this, but you're fighting for the same identity. If you look the same, [and] you sound the same – we were in a small town, so we had the same friends and the same interests." Many people didn't even bother to distinguish between the two, he explains. "[But] as soon as we stopped living together in the same place, we became very close friends. And we're very close now."
Their differing sexual orientation also helps set them apart as adults. "People say he's the straight version of me," says Tyler. "If he went to the gym a little bit more and dressed himself a little bit better, then we would be the same person, at least by appearance."
In fact, Tyler, who's only a semester away from earning his MBA from American University, is planning to start a part-time Web-design business with his brother, a Web programming student at Harvard University. Perhaps they'll call it Pi, after the Greek numerical value. The Coffey twins were, after all, born March 14, "like all good dorks."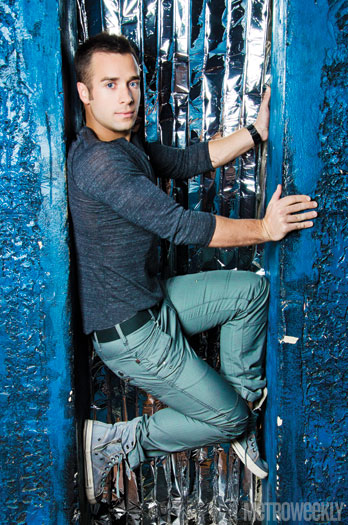 Tyler has little free time between going to school, dreaming up business ideas and serving as a contractor offering information technology support to three different organizations. If you do find him out and about, it'll most likely be at Nellie's, Duplex Diner or the Chi Cha Lounge.
Or at the gym.
"Results is where it all happened," he says, referring to the U Street NW location that is now a Vida. He met his current boyfriend over the summer at the gym. And he's always there with his workout partner, Brien.
Tyler is also increasingly participating in races, from triathlons to obstacle courses to 10-milers. "I need a goal when I work out," he concedes. "I'm very competitive. It happens when you're a twin."
And the sibling rivalry is still on: Tyler says he just talked his brother into doing a triathlon next year.
Tyler smiles, "I can't let him rest on his laurels."
WINNER PRIZE PACKAGE
$500 Cash
18th & U Duplex Diner — $100 Gift Card
9:30 Club — 2 Tickets to The Darkness with Foxy Shazam
Annie's — $300 Dinner Certificate
Arena Stage — 2 Tickets to Opening Night and Post-Show Reception for The Normal Heart
Black Fox Lounge — $75 Gift Certificate
Blowoff — 2 Admissions for all 2012 Dates at 9:30 Club
Capital Queer Prom — 2 Tickets to the 2012 Prom
Caramel Boutique — $50 Gift Certificate
Centaur Entertainment — 10 CD Package
Cobalt — $100 Gift Certificate
DC Eagle — $50 Gift Certificate/Bar Tab
Fireplace DC — $25 Bar Tab
FIT — 2 Full Personal Training Sessions
Freddie's Beach Bar — Sunday Buffet Brunch for 2
GALA Hispanic Theatre — 2 Tickets to a Mainstage Production
Hollywood Tans DC — 3 Month Unlimited Tanning Package in HT54 Stand-Up Booth
HRC Store — $100 Shopping Spree at D.C. Store
Image Entertainment — BluRay Copy of Bette Midler's The Showgirl Must Go On
JR.'s — $100 Bar Tab
Kennedy Center — 2 Tickets to La Cage aux Folles and 2 Tickets to Pal Joey
Landmark Theatres — 4 Passes
Leather Rack — $75 Gift Certificate
Level One — $100 Gift Certificate
MAL Weekend 2012 — 1 Weekend Run Packet
Miss Gay DC America 2012 — 4 VIP Tickets
Nectar Skin Bar — Custom Facial and 1 Waxing Service
Omega DC — $50 Drink Tickets
Round House Theatre — 4 Tickets to Next Fall
Ruff Plastic Surgery — Microderm Oxygen Facial, Vector 3D Imaging, Visia Skin Analysis and Consult With Clinician
Signature Theatre — 2 Tickets to Xanadu
SKIN Cosmetic Dermatology of Georgetown — $200 of Professional Skin Care Products
State Theatre — 4 Tickets to Any Show of Choice and State Theatre Gift Pack
Studio Theatre — 3-Play Package: Time Stands Still, Sucker Punch, and Bachelorette Plus Bonus Pair of Tickets to Bust and 2 Free Drink Coupons
Tattoo Paradise — $50 Gift Certificate
Team DC — 4 Tickets to Fashion Show and 2 Tickets to Night OUT at the Wizards
Town Danceboutique — Free Admission (Plus 1 Guest) for Any Night the Club Is Open (Except When Admission Is Being Donated to Charity)
West End Cinema – 4 Passes
WSC Avant Bard — 2 Tickets to Each of the Final 3 Shows of Season
Ziegfeld's/Secrets — $50 Cash
Our thanks to all those nightspots, restaurants, businesses and performing arts venues who graciously provided prizes to this year's Coverboy winners. Certain restrictions may apply to some prizes. Prizes are non-transferable.
The 2011 Coverboy of the Year was photographed on location at the Nightclub 9:30, 815 V St. NW, in Washington, D.C. Visit 930.com.