"There are more choirs here per capita than any other city," says Ann Stahmer, executive director of the City Choir of Washington (301-572-6865, thecitychoirofwashington.org). In fact, D.C. is known as the choral capital of the United States. And that makes for a lot of Christmas caroling by the capital's chorales.
"All of us are presenting holiday music," she adds, "but I think each of us has a unique way of putting it together." For example, Stahmer's five-year-old group, conducted by Robert Shafer, offers a candlelight processional and sing-a-longs of familiar carols in addition to traditional chorale works. And all in the intimate setting of upper Northwest's National Presbyterian Church.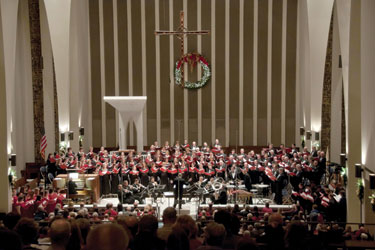 City Choir of Washington
(Photo by Don Lassell)
The Washington Chorus (202-342-6221, thewashingtonchorus.org) is D.C.'s standard-bearer chorale, and the 50-year-old Grammy-winning group offers a run of holiday performances at the Kennedy Center Concert Hall and the Music Center at Strathmore. Conducted by Julian Wachner, the chorus takes full advantage of the theatrical lighting and acoustic possibilities of performing in the area's largest and most revered concert venues, which are especially popular during the holidays.
"We do a little of everything, but mostly it's a family Christmas concert," says Executive Director Diane Peterson. "It's a real holiday event."
The Gay Men's Chorus of Washington (202-293-1548, gmcw.org) serves family of a different stripe. Considered one of the nation's best all-male choruses, GMCW goes "Red & Greene" for the holidays, in a concert featuring Ellen Greene, the original Audrey from Little Shop of Horrors and Vivian from ABC's Pushing Daisies.
Meanwhile, all three of the area's major symphonies will perform Handel's Messiah, launching with the Baltimore Symphony Orchestra this weekend, followed by the National Philharmonic on the weekend of Dec. 10 and the National Symphony Orchestra on the weekend of Dec. 17.
With so many options, how does one choose? Maybe you don't. Says the City Chorus's Stahmer: "I know a lot of people who go to several of these to see what's different about each one and … to hear lots of holiday music."