President Obama issued a memorandum Dec. 6 "directing all agencies engaged abroad to ensure that U.S. diplomacy and foreign assistance promote and protect the human rights of LGBT persons," drawing praise from LGBT advocates.
Among the steps required by the memorandum are efforts to fight the criminalization of LGBT status or conduct, as well as to support the protection of LGBT refugees and asylum seekers.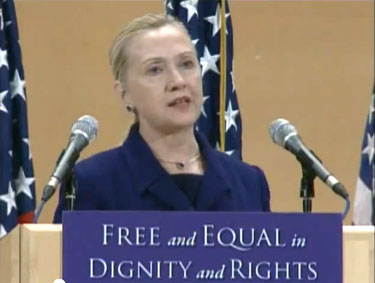 Hillary Clinton in Geneva, Switzerland
(Photo by State Video)
Later on Dec. 6, Secretary of State Hillary Rodham Clinton gave a major speech on LGBT equality as her Human Rights Day Address, providing a substantial basis for and further details about the president's memorandum. Delivered in Geneva, Clinton acknowledged America's imperfect record on the issues but carried forth on the importance of moving forward on an international level.
Toward the conclusion of her speech, Clinton directed one portion of her remarks to "LGBT men and women worldwide," saying, "Wherever you live and whatever the circumstances of your life, whether you are connected to a network of support or feel isolated and vulnerable, please know that you are not alone. People around the globe are working hard to support you and to bring an end to the injustices and dangers you face. That is certainly true for my country. And you have an ally in the United States of America and you have millions of friends among the American people."
Clinton detailed the importance of discussion and humility when addressing LGBT issues, but strongly called out anti-LGBT treatment as human rights violations. Among the specifics noted in her speech was the formation of a "Global Equality Fund" to help support international LGBT equality efforts.
Human Rights Campaign President Joe Solmonese met with Clinton in Geneva before her speech, according to the organization. In a statement, he said, "The Obama Administration has made a tremendous difference in the lives of LGBT people in the United States and this new strategy helps to extend that presidential leadership across the globe. There is no question that the administration's record of advancing equality for LGBT people has been enhanced by the leadership of Secretary Clinton who consistently underscores the simple truth that LGBT rights are human rights."
According to HRC, the presidential memorandum is the first ever U.S. government strategy to deal with human rights abuses against LGBT people abroad.
Obama's memorandum requires the Department of State to "lead a standing group, with appropriate interagency representation, to help ensure the Federal Government's swift and meaningful response to serious incidents that threaten the human rights of LGBT persons abroad."
Another portion of the memorandum directs "agencies engaged abroad" to "strengthen the work they have begun and initiate additional efforts" to combat LGBT discrimination and strengthen international policies and programming on LGBT issues.
The New York Times reported, "It was not immediately clear whether [the memorandum] would mean a cut-off of American aid to countries that target the gay community, but it suggests that American agencies will have expanded tools to press foreign countries that are found to abuse the rights of gays, lesbians and others."
Republican presidential candidate and Texas Gov. Rick Perry strongly criticized the move, saying in a statement, "This is just the most recent example of an administration at war with people of faith in this country. Investing tax dollars promoting a lifestyle many [Americans] of faith find so deeply objectionable is wrong. President Obama has again mistaken America's tolerance for different lifestyles with an endorsement of those lifestyles. I will not make that mistake."
Log Cabin Republicans Executive Director R. Clarke Cooper pushed back, saying in a statement, "With all due respect, Governor Perry is wrong. Speaking out for the basic human rights of LGBT people to life and liberty is anything but 'at war with American values."'
Responding to the memorandum and the speech, the executive director of the National Gay and Lesbian Task Force, Rea Carey, said in a statement, "We applaud the president for this monumental step forward, and thank Secretary Clinton for taking to the world stage to send the unequivocal message that LGBT people everywhere should be able to live freely and with dignity."
Carey added of Clinton's remarks, "She spoke of how our common humanity should know no borders, but that in reality it does, often with harsh – even deadly – consequences for LGBT people. Secretary Clinton made it clear that the fair and equal treatment of LGBT people worldwide is a moral imperative, and a priority and legitimate concern in U.S. foreign policy."
National Center for Lesbian Rights Executive Director Kate Kendall said in a statement, "Between the initiatives outlined in the President's memo, and the visionary speech of Secretary Clinton, it seems possible that my children could grow up in a world where LGBT people are no longer terrorized or victimized based on their sexual orientation or gender identity. This is a day to remember, and one that will mark the beginning of a new era in the international recognition of our community."