In that life keeps moving forward, the laws of the universe make it impossible to revisit everything in the past. There is certainly plenty, however, in 2011 worth remembering. There was loss, there were lessons, and there was more than enough to remind everyone that life is equal parts predictable and crapshoot, comedy and tragedy. Below is a rapid-fire run through of the year that was.
JANUARY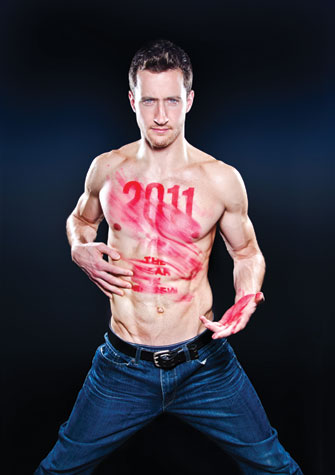 Among the very first events of 2011 was the horrific shooting of Rep. Gabrielle Giffords (D-Ariz.), a member of the House LGBT Equality Caucus, as she met with constituents. Though Giffords survived the shooting, six people were killed. Daniel Hernandez Jr., a gay intern for Giffords, provided emergency care for the congresswoman until emergency crews arrived.
"When I heard the gunshots and I heard someone yell 'gun,' my first concern was making sure that the congresswoman and those who would likely be around her would be okay," Hernandez told Rachel Maddow two days later. At the end of the month, Hernandez attended President Obama's State of the Union Address as a guest of first lady Michelle Obama.
Also in January, the Centaur Motorcycle Club moved the Mid-Atlantic Leather Weekend from the Washington Plaza Hotel to its new home at the Hyatt Regency Washington on Capitol Hill, and named Doug Pamplin Mr. MAL 2011.
The U.S. Supreme Court declined, without comment, to hear a challenge to D.C. marriage equality, Brown v. D.C. Board of Elections and Ethics; while Maryland legislators made a push for marriage equality in their state with introduction of a bill on Jan. 25.
Mayor Vincent Gray named Jeffrey Richardson – at the time president of the Gertrude Stein Democratic Club – to head his Office of GLBT Affairs. Meanwhile, Obama did some LGBT recruiting, naming longtime activist Roberta Achtenberg to the U.S. Civil Rights Commission; Jeffrey Levi to the Advisory Group on Prevention, Health Promotion, and Integrative and Public Health; and nominating J. Paul Oetken to serve as U.S. District Court judge.
FEBRUARY
In Maryland, with the marriage ball rolling, the state Senate Judicial Proceedings Committee hears more than six hours of related testimony on Feb. 8.
On the Valentine month's love front, Facebook added "civil union" as a relationship-status option. The annual Scarlet's Bake Sale, benefitting Pets-DC and Moveable Feast in 2011, marked its 40th anniversary. Continuing the love, the Gay Men's Chorus of Washington held a DADT-repeal-themed concert, featuring veteran Mike Almy and members of the chorus who have served in the military. The Department of Justice also offered some love in a Feb. 23 letter from Attorney General Eric Holder stating that the Department would stop defending Section 3 of the Defense of Marriage Act.
Gays and Lesbians Opposing Violence (GLOV) elected new co-chairs, Hassan Naveed and A.J. Singletary. As GLOV moved forward, another local organization, Prevention Works!, started as a project of Whitman-Walker Clinic and focusing on needle exchange to prevent transmission of HIV, announced its closing. Also on the HIV front, Mayor Gray announced a new D.C. Commission on HIV/AIDS.
MARCH
The big news that literally shook the world in March was the gigantic March 11 earthquake and subsequent tsunami that devastated Japan.
Seismic destruction or not, many scheduled D.C. events went on as planned. Freddie's Beach Bar celebrated 10 years with – what else? – a purple party. The Capital Area Gay & Lesbian Chamber of Commerce beat the quake by two days with it 3rd Annual Mega LGBT Networking and Social Event at Town. Food & Friends held Dining Out for Life the next night, March 10. Team DC held its annual fashion show March 12. On March 19, it was time for the Capital Queer Prom, Servicemembers Legal Defense Network 19th annual dinner, and the Marriage Equality Wedding Expo marking a year of marriage equality in D.C.
In politics, the White House held a conference on bullying, but fell short of endorsing anti-bullying bills. House GOP leadership voted to defend DOMA. And Rep. Barney Frank (D-Mass.) and colleagues closed out the month announcing the reintroduction of the Employment Non-Discrimination Act. More locally, the D.C. chapter of Log Cabin Republicans endorsed Patrick Mara in the special election for At Large member of the City Council. The Stein Democrats endorse Sekou Biddle in that race. And on March 11, Maryland marriage equality was put on hold. On March 26, however, the Maryland House passed the Gender Identity Anti-Discrimination Act.
Taking a look at the collective pocketbook, the Movement Advancement Project released a report that showed fewer than 5 percent of LGBT people donating to LGBT organizations.
APRIL
The Maryland 2011 legislative session ended April 11 with the state Senate undoing the House's work by killing the Gender Identity Anti-Discrimination Act. In D.C. politics, voters in the special election – despite the endorsements of different candidates by LCR-DC and Stein Dems – returned Vincent Orange to the City Council.
Eyes remained on Maryland in April as a young transgender woman, Chrissy Polis, was brutally attacked at a Baltimore-area McDonald's. The community rallied at the restaurant six days later, making particular note of the Maryland Senate dropping the ball on antidiscrimination protection just days earlier. Later in the month, Equality Maryland's executive director, Morgan Meneses-Sheets, said she was being fired, which the board contested, marking the beginning of a transformative – and shaky – period for the organization.
In another April shakeup, Louis J. Marinelli announced he was jumping off the anti-gay National Organization for Marriage (NOM) bus, having had his fill of the homophobia. Continuing the "change is good" trend, Whitman-Walker Clinic used the occasion of its April 27 spring gala to announce its rebranding as Whitman-Walker Health, and Youth Pride Day returned to its Dupont Circle roots on April 30.
Well past its own youth, Omega celebrated 35 years on April 20, while the Gay & Lesbian Activists Alliance used the same night for its 40th anniversary reception.
MAY
May started off with a bang, as revelers spontaneously celebrated news of Osama bin Laden's execution.
Other May celebrations included the opening of Number Nine, Metro Weekly's 17th birthday, and the naming the four 2011 Metro Weekly Next Generation awardees: Gregory Cendana, Victoria Kirby, Daniel Fredrick O'Neill and Sadie Ryanne Vashti. Tyler Coffey, who ultimately won the 2011 Coverboy of the Year competition, made his Metro Weekly debut in the May 12 issue. Metropolitan Community Church of Washington, D.C., celebrated its 40-year-mark May 13. The Academy did MCC one better, marking its 50th anniversary; it celebrated by donating $3,500 to gay pioneer Frank Kameny.
Moses Mworeko, a gay Ugandan living in D.C., also had reason to celebrate in May, as the U.S. granted him asylum. Ben Cohen, the straight rugby star from Britain, didn't land in D.C. in May seeking asylum. Instead, he brought his Acceptance Tour to the city to make a stand against bullying and homophobia.
While May 13 was good for MCC, it was bad news for the National Youth Advocacy Coalition, which ceased operations that day. In Virginia, the Arlington Gay & Lesbian Alliance marked a decade of scholarships and three decades of existence.
Equality Maryland brought on Lynne Bowman as interim executive director, with the board announcing later in the month that finances might force the organization to close in June. Meanwhile, a new organization, Gender Rights Maryland, launched. Also in Maryland, Polis's attacker, Teonna Brown was indicted.
May's usual end-of-the-month celebration, DC Black Pride, combined its signature Memorial Day event with Us Helping Us, People Into Living, for a joint festival, though it retained many of the weekend-long event's traditional offerings at the host hotel.
Also in May, Sen. Herb Kohl (D-Wis.) announced he wouldn't be seeking re-election, leaving a tempting door open for out Rep. Tammy Baldwin (D-Wis.).
JUNE
Traditionally the gayest month of the calendar, June 2011 was no exception. Starting June 2, DC Leather Pride primed the pump, followed by Capital TransPride, Latino Pride, Pride of Pets and Baltimore Pride. The area's June blockbuster pride celebration, of course, was Capital Pride, with days of events. Kelly Rowland threw a wrench in this year's machinery, canceling as the festival's headliner due to a conflicting obligation. Jennifer Holliday graciously picked up the slack and kept the party going.
Out Councilmember David Catania (I-At Large) held a June 9 roundtable discussion for planning July 2012's XIX International AIDS Conference in D.C. Daniel Hernandez Jr. returned to Washington to participate in Team DC's Night Out at the Nationals on June 21. Duplex Diner closed out an era by changing ownership and closing for renovation, while Christopher Dyer's alter ego, drag queen Cookie Buffet, raised about $2,000 for the LGBTQ youth transitional housing, Wanda Alston House, with "Wig Aid Live." Food & Friends glittering annual gala, Chef's Best, was held on June 27.
In more serious news, a D.C. Superior Court judge sentenced Antwan Holcomb to 50 years imprisonment for the murder of gay D.C. resident Anthony Perkins.
Equality Maryland on June 27 released a six-month plan to put the organization on better footing and ensure its viability. June also saw the launch of another LGBT organization, Marryland Etc.
New York, however, was the star of June, winning marriage equality on June 24.
JULY
The first weekend of July turned out – after 28 years – to be the last weekend of Apex nightclub.
Team DC continued its sporty summer with a Night Out at the Kastles for tennis on July 21 and Night Out at the Mystics for basketball on July 26.
On July 18, J. Paul Oetken's judicial nomination was confirmed 80 to 13. Four days later, Obama, Secretary of Defense Leon Panetta and chairman of the Joint Chiefs of Staff, Adm. Mike Mullen, certified DADT repeal, keeping it on track for ending in September. And on July 26, the D.C.-based AIDS Healthcare Foundation announced plans for a march and rally to coincide with the July 2012 International AIDS Conference.
On the marriage front, various groups joined to form the Marylanders for Marriage Equality coalition. Days later, Maryland Gov. Martin O'Malley announced his support for marriage equality. Marriage equality in New York took effect July 21, prompting the resignation of one town clerk, citing a conscientious objection. Gov. Andrew Cuomo responded by saying, "The law is the law."
Whatever good news happened in July was easily outweighed by the death of Lashai Mclean, a young transgender woman shot and killed on July 20. Before the month was out, another trans woman, Tonya Harrell, reported being shot at just a block from where Mclean was killed.
AUGUST
August borrowed a page from March, shaking things up with another earthquake. The encore – so much smaller that it wouldn't have raised an eyebrow in California – spooked D.C. locals who are better prepared for dirty bombs or anthrax in the mail.
The DC Gay Flag Football League also tried to shake up August with the release of its first beefcake calendar. Human Rights Campaign President Joe Solmonese also shook things up by announcing that he would step down at the end of his contract in March 2012.
Equality Maryland officially announced its search for a permanent executive director on Aug. 3. In Virginia politics, the only out legislator in the Virginia General Assembly, Del. Adam Ebbin (D-Arlington), won the Democratic primary in his bid to become state senator.
Ten days after Metropolitan Police Dept. Chief Cathy Lanier held a closed-door meeting with LGBT activists to discuss safety issues an off-duty MPD officer, Kenneth Furr, allegedly shot at a group that included two transgender women, both of whom suffered non-life-threatening injuries.
Hurricane Irene scuttled plans for the official opening of the new Martin Luther King Jr. Memorial – postponed till October – but not before the Building the Dream for LGBT Equality reception on Aug. 24.
Closing out August, Metro Weekly headed to the National Lesbian and Gay Journalists Association convention in Philadelphia, bringing back four awards.
SEPTEMBER
With summer coming to a close, locals tried to hold on tight to those hazy, lazy days. A rejuvenated Equality Maryland celebrated Gov. O'Malley. On Sept. 10, it was time to return to Kings Dominion for the annual LGBT night at the park to raise money for Brother Help Thyself. September also offered LGBT Family Day with the Washington Nationals, Hillwood's Gay Day, Team DC's Night Out at DC United, the Sexual Minority Youth Assistance League's annual brunch and The Center's fall reception.
On the club front, owners of the Barracks Row lesbian bar Phase 1 revealed that they were going to be adding the former Apex space to the empire with hopes of launching Phase 1 of Dupont. Another community venue, 1409 Playbill Café, had a farewell party on Sept. 24, with plans to reopen as soon as possible at a new location.
Just in time to mark the 10th anniversary of the 9/11 attacks, Rep. Sally Kern (R-Okla.) warned that homosexuality is a greater threat than terrorism. She offered no insights on what might be the greatest threat to LGBT people.
Gaurav Gopalan, a gay Washingtonian, was found dead on a Columbia Heights sidewalk in September in a case deemed a homicide. Later in the month, more than a hundred concerned people held a vigil and march in Gopalan's memory. The same month, a transgender woman was shot in the neck at close range by an acquaintance. Darryl Willard pleaded guilty to a charge of "aggravated assault" in that case. Also in court, Teonna Brown was sentenced to five years for her April attack on Chrissy Polis. And on Sept. 30, Interpol arrested a woman in Argentina who faces a charge of first-degree murder in the 2007 stabbing death of D.C. lesbian Gabriela Jose Lopez-Hernandez.
In politics, Baldwin made it official: She would run for Senate. Bigger news, however, was the Sept. 20 end of DADT. Sadly, the end of DADT didn't keep audience members at a Sept. 23 Republican presidential primary debate from booing gay Army Capt. Steve Hill.
OCTOBER
October 2011 will long be remembered for the month that 86-year-old Frank Kameny died, fittingly on National Coming Out Day.
The month was full of enough milestones, however, to remind everyone that life goes on. Cobalt celebrated its 10th birthday with Amanda Lepore. JR.'s, the High Heel Race, and AIDS Walk Washington all turned 25. It was the big 2-0 for the Reel Affirmations LGBT film festival – an anniversary that almost wasn't. And the Gertrude Stein Democratic Club celebrated 35 years.
Aside from growth, life also demands change. To that end, Capital Pride announced that the organization's past vice president, Bernie Delia, was taking over the board president spot, while Ryan Bos became its executive director. A sad change was the announcement from the DC Cowboys that the current season would be its last. Whitman-Walker Health, meanwhile, opened its doors on Oct. 21 to show off renovations. The month also saw the sixth annual Hispanic LGBTQ Heritage Reception, while Team DC handed out its Champions Awards.
President Obama once again joined HRC for the organization's national dinner, and later in the month awarded lesbian widow Janice Langbehn the Presidential Citizens Medal. The ceremonial induction for Oetken as a federal judge took place in October, as did Senate confirmation for Alison Nathan to become the second out lesbian federal judge with lifetime tenure.
With far more pomp and pumps, Kirby Kolby won Miss Gay America, the second Miss Gay DC America titleholder in a row to win the coveted crown.
NOVEMBER
If it's November in America, surely there's an election to be had. And on Election Day 2011, LGBT America saw some gains. First off, Adam Ebbin was successful in his race to be Virginia's first and only out gay state senator. Residents of Traverse City, Mich., voted to keep nondiscrimination protections in place; Houston kept out Mayor Annise Parker in office; Chris Seelback became the first out member of the Cincinnati City Council, as was the case with Zach Adamson and the Indianapolis City Council; while Holyoke, Mass., residents voted in gay Alex Morse as mayor; the New Jersey State Assembly picked up the gay Dr. Tim Eustace; and Giffords's former intern, Daniel Hernandez Jr., was elected to his local school board.
On Nov. 2, the National Park Service Register of Historic Places added Frank Kameny's D.C. home to its listing of historic sites. In Kameny spirit, locals added a Nov. 17 Transgender Day of Action to the traditional Nov. 20 Transgender Day of Remembrance.
The DC Eagle marked its 40th anniversary as D.C.'s leather bar, while Lace, catering to the ladies, celebrated its third.
In national politics, Housing and Urban Development Secretary Shaun Donovan said he "absolutely" supports marriage equality, while Rep. Barney Frank (D-Mass.) announced he won't be seeking re-election. Meanwhile, Equality Maryland announced the addition of Carrie Evans as the group's permanent executive director.
DECEMBER
There really was more to December than Metro Weekly's Coverboy of the Year party at Town Dec. 15. First, there was World AIDS Day Dec. 1, with Whitman-Walker's traditional candlelight vigil. A new addition marking World AIDS Day – though technically a Nov. 30 event – was The Center's presentation of The Infection Monologues.
An oddly ill-timed Dec. 1 wrinkle was Virginia Attorney General Ken Cuccinelli – infamous among Virginia's LGBT community – announcing his intention to run for governor.
More uplifting news came Dec. 6 marking Human Rights Day, with Secretary of State Hillary Rodham Clinton giving a speech in Geneva in support of LGBT people around the world. That day, President Obama issued a memo instructing foreign service agencies to promote and protect LGBT human rights.
December was also a month for awards. Us Helping Us did the honors on Dec. 3. GLOV honored its "guardians" on Dec. 6. And local activist Bob Witeck picked up Arlington County's James B. Hunter Human Rights Award on Dec. 7.
Look at the year ahead in Metro Weekly's Jan. 5, 2012, issue.