The In Series targets one performance of every production to the LGBT community, labeling it "OUT at the In Series." But honestly, any performance of the In Series's new cabaret Arlen Blues & Berlin Ballads (



) is gay enough. Jase Parker single-handedly makes that true — and he's not even the one who sings Harold Arlen's gay standard, "(Somewhere) Over The Rainbow."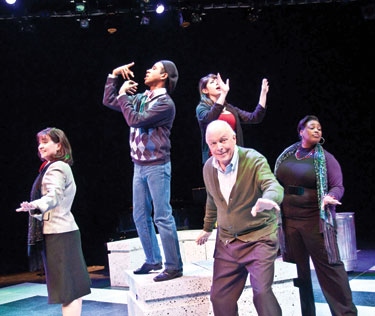 The In Series
(Photo by Paul Aebersold)
With his supple vibrato, exaggerated gestures and light-footed manner, Parker will leave you laughing at, but mostly with, him. He plays a capital-G gay character, and he is the singing-and-dancing showtunes stereotype incarnate. But it works: He's putting on a show after all. Let him entertain you.
The In Series has fashioned a kind of jukebox musical with Arlen Blues & Berlin Ballads, constructed out of popular songs by Arlen and Irving Berlin. Co-directors Abel Lopez and Angelisa Gillyard push to make it as of-the-moment as possible, giving it a light "Occupy DC" theme. They set the action in Freedom Plaza, as characters discuss their predicaments, mostly economic.
The songs are tied together with the barest of dialogue by Bari Biern, but that suits things just fine: The songs are really the thing, from Arlen's "Stormy Weather" and "Get Happy" to Berlin's "I Got The Sun In The Morning" and "White Christmas." Gillyard deserves credit for jazzing things up a bit with some cute group choreography. Also jazzing things up is the three-piece band assembled by music director Stanley J. Thurston, who's on piano.
Some of the numbers are performed a bit wanly, by intermittently good singers who aren't always up to the challenge of putting their own stamp on these classics.
Obviously, that's not true of Parker, with his campy romp through selections of the Arlen and Berlin songbooks. It also isn't true of Pam Ward, a gospel-reared singer who has the confidence and the ability to tackle "Over The Rainbow." She imbues the Judy Garland signature with darker colors, teasing out the yearning in a way that may be too much for some. But gays will certainly get it.
Arlen Blues & Berlin Ballads runs to this Sunday, Dec. 11. Atlas Performing Arts Center, 1333 H St. NE. Tickets are $37, or $40 for front-row cabaret table seats. Call 202-204-7763 or visit inseries.org.