"It's so romantic to think that I would be able to marry you on my leave," Army Capt. Steve Hill says he told the man he loves, Joshua Snyder.
Hill tells Metro Weekly, "The more we talked about it, the more we wanted to do it."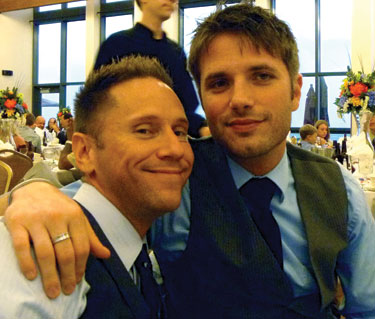 Steve Hill and Joshua Snyder
They did get married, in D.C., when Hill was home on leave earlier this year. Then, as the Sept. 20 end of "Don't Ask, Don't Tell" approached, Hill began thinking about another issue: He submitted a question to the Fox News/Google Republican Presidential Primary debate – with his face off-camera – about DADT's repeal. The debate organizers liked the question, but asked him to resubmit it with his face exposed.
Again, the couple talked about it, and Hill decided to go for it.
Then, the debate happened. And Snyder, at home in Columbus, Ohio, was watching and celebrated when he saw his husband on the screen. "I was jumping around, yelling," he says, adding that he initially didn't even hear that anyone had booed because, "I was like a little kid, I freaked out."
For Hill, though, he says, "I was in Iraq, in my room, it was like 4 in the morning. It was just me and my TV. I didn't have anybody distracting, I wasn't yelling, I just watched it.
"My visceral response right away was, 'Holy crap. Did I just do something wrong? They booed me. They do not approve of my question."' As Rick Santorum answered, saying that repealing DADT amounted to giving "a group of people … a special privilege," Hill's attitude changed.
"In my mind, I flash back to the 20 years that I've served, and there have been countless times that I've run through my house and hid my pictures of vacations and stuff because soldiers were going to stop over. I've had to ask the person that I was dating to leave the house before," he says. "There are so many things that I had to do over the years, that I thought, 'This isn't a special privilege at all. I don't know what you're talking about."'
After the Sept. 22 debate, Hill – who wasn't out in Iraq – now had to face all his fellow servicemembers.
"So, we walk over to breakfast, and we're in the chow hall – mind you, 2,000 people or more could probably fit in that chow hall – and they have monitors all over the chow hall that have the news running," he says. "And, I'm sitting there, and all the sudden, I come on the news again. It exploded, and here I am asking that question. And it was in front of everybody."
After a day of what he calls "whispers" that were "human nature," he was confronted about his newfound celebrity by a soldier who asked him if he was signing autographs – and then told Hill that his brother was gay.
Hill adds, "I had no negative reaction from anybody. As a matter of fact, it was so positive. The Army was super-supportive. The Army actually even sent down a thing making sure I was okay, because it was a lot of pressure. It was really cool."
Even coming out, though, wasn't the end for Hill.
"I started thinking [that if something happened to Snyder] I couldn't even go home on emergency leave to bury him. I would have to tall my parents to please bury my husband – my legally married husband – in my absence, because I couldn't even go on emergency leave to bury him," he says. "The Army doesn't recognize friends; the Army recognizes your immediate family.
"That's why we decided to join the lawsuit with [Servicemembers Legal Defense Network]," he says of the challenge to the Defense of Marriage Act brought by SLDN Oct. 27.
"We're legally married, we're in love. There should be no reason we're treated like second-class citizens."