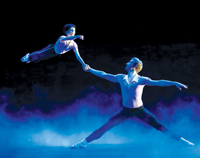 Writer Lee Hall, director Stephen Daldry and choreographer Peter Darling reprise their responsibilities adapting the popular 2000 film Billy Elliot, with Hall also penning the lyrics for a catchy score by Elton John. The result is moving material set into brilliant motion. If some of the mechanics of the stage form feel a bit forced — the team favors early showstoppers for characters whose names you've barely caught, and movie memories seem to be counted on at times as a form of dramatic shorthand — the overall effect is one of remarkable achievement: sweeping, unforgettable images of riot police alongside tutu-clad girls; of miners disappearing into the earth as their helmets illuminate a hauntingly sparse stage; of a young hero propelling his body in astounding bursts of grief, rage and the unstoppable energy of youth. To Jan. 15, 2012. Kennedy Center Opera House. Tickets are $25 to $150. Call 202-467-4600 or visit kennedy-center.org.
Read Jonathan Padget's full review here.
Get Spotlight in your inbox. Join our mailing list.