Don Blanchon, executive director of Whitman-Walker Health, has received the "Impact" award from Vistage International, a "CEO peer advisory membership organization," for his success in converting Whitman-Walker into a community health center while also putting it on a sound financial footing.
The Impact award honors a "company leader who contributed to the success of others or achieved strong performance that led to extraordinary growth or made a significant impact on his/her company, industry and/or community."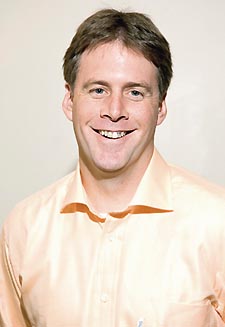 Blanchon
File photo by Todd Franson
Blanchon became executive director in 2006, working to broaden the clinic's focus to include primary care services. That led to Whitman-Walker's designation as a federally qualified health center, making it eligible for special grants, programs and services, as well as enhanced reimbursements for patients on Medicare and Medicaid.
Under Blanchon, Whitman-Walker sold some of its holdings and executed controversial layoffs. Fiscally, however, there has been an improvement, moving from yearly losses of more than $4 million in 2007 and 2008, to an operating gain of nearly $1 million, according to WWH.
In a Nov. 28 release issued by WWH, Blanchon said he was "grateful" and "humbled" to receive the Impact award and praised his colleagues at Whitman-Walker for their help.
"While my name is on this award, it really belongs to our entire Whitman-Walker family – the board of directors, employees and volunteers who have worked so hard to improve the already high quality of work we do, and to our patients, who inspire all of us to do more," Blanchon said.