The revival of Anything Goes is — pure and simple — old-fashioned. And how could it not be? Dating from 1934, the Cole Porter escapist classic was one of the first musicals, coming a full decade before the form's so-called Golden Age.
And yet, a modern-day sophisticate weaned on Rent or even The Book of Mormon can still find delight in Anything Goes. You just have to wait out a long, sagging first act, and make peace with some fanciful developments, including a happy ending in which the show's leads all, improbably, find requited love.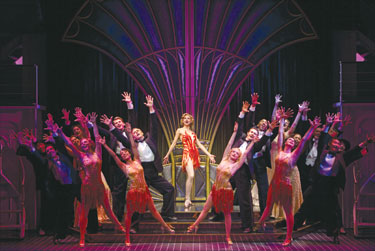 Anything Goes
Beyond that, you don't have to look too hard for appeal, at least not in the Roundabout Theatre Company's handsome revival now docked at Broadway's Stephen Sondheim Theatre. The action takes place aboard a cruise ship — realized in full Art Deco glory by set designer Derek McLane — sailing from New York to London. The boat is filled with star-struck passengers looking for love, luxury and trouble. Among them is a hearty crew of randy sailors, who dance and sing and gaily carry on, and wear some of the most form-flattering costumes, designed by Martin Pakledinaz, ever seen outside of Tom of Finland drawings.
You don't have to listen too closely, either, to pick up on some of the show's ribald antics and especially the clever double entendres and innuendo, the not-so-openly gay Porter's lyrical stock in trade. Featuring an original book by P.G. Wodehouse and Guy Bolton, Anything Goes includes Porter's mating song "You're The Top," for starters. Late in the show, in "Buddie, Beware," the vampy Erma (played to the hilt by Jessica Stone, in a Cyndi Lauper-esque voice) warns the hunky sailors pursuing her that she's a "difficult girl." From what we see, this young gal is also remarkably sexually active and proudly single. She tells the seamen she'd just as soon frolic with all of them: "Why have one when you can have six?" Why not?
The first act concludes with the wonderful title tune framing a sharp, prolonged tap-dancing sequence, choreographed by the show's director Kathleen Marshall, which will stun you well into intermission. But, don't worry, the best is yet to come: "Blow Gabriel Blow," too hot for the 1936 Bing Crosby movie adaptation, is still an innuendo-laden showstopper. As the cruise ship's headline entertainer Reno Sweeney, Sutton Foster rocks the boat all the way to a musical promised land.
"They've seen the light," Foster exclaims after the audience erupts in boisterous applause toward the end of the song. Foster, who won her second Tony for this role, proves more than up to the task of assuming a role originated by Ethel Merman and previously played by Patti LuPone, among others. Foster, a singing/dancing/acting triple threat, makes Sweeney irresistible: both sexy and sweet, savvy and silly. You'll see the light, all right.
ANYTHING GOES




Stephen Sondheim Theatre
124 West 43rd St.
New York
$92-$142
212-239-6200
telecharge.com
Last week, producers announced a 25-city national tour of Anything Goes starting fall 2012. They didn't reveal specific cities or dates, or casting. Assuming Foster will decline, it'll be a challenge to cast a Reno Sweeney with her charisma and charm — not to mention that of her co-stars, notably Broadway veteran Joel Grey (Cabaret) as Moonface Martin, Adam Godley as Lord Evelyn Oakleigh, and Kelly Bishop as Mrs. Evangeline Harcourt. (Both Godley and Bishop, who won a Tony originating the role of Sheila in A Chorus Line, are only in the show until mid-January.)
So better get onboard this SS Cole Porter before it sails away from the Great White Way.