He must be tickled: Just as Bill Cain's latest play, Equivocation, opens here in Washington, another Mr. Cain, this one a presidential hopeful, is "attempting to tell the truth in difficult times," — the very words the mischievously literate Bill Cain has used to describe equivocation in the current climate. You can't make this stuff up.
However, you can make up pretty much anything you want about the motivations of Shakespeare in the writing of his plays, especially since we know so very little about his process. And in Equivocation, Cain does just that. Noting that Shakespeare was working in London at the time of the infamous Gunpowder Plot — in which a band of religiously disaffected men allegedly planned to blow up the king and Parliament — Cain puts the Bard deep in the ensuing melee, both comic and tragic. Pressured to write a play about the thwarted uprising for the king, Shakespeare (or, as he is known here, Shagspeare) realizes that there is far more than meets the eye in both the origins of the supposed plot and the court's interest in putting the events — fully spinned — into a popular play. Morally torn (when he's not joking around), Shagspeare confronts not only the truth but several of his own skeletons as he bends under the unrelenting pressure of an old enemy at court. Will he write the politically expedient but seriously truth-challenged play or not?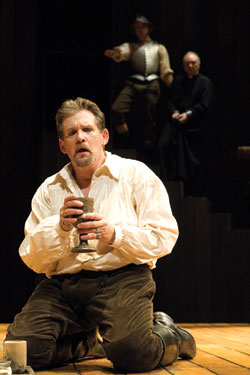 Equivocation: Anthony Heald
(Photo by Jenny Graham)
Those content to go with this completely unsubstantiated premise will likely find Equivocation a very entertaining, often witty, occasionally funny and, in one or two places, quite moving piece of contemporary theater. Dripping with Shakespearean reference even as it quite sincerely grapples with each character's personal choices regarding truth in "difficult times," it is as much a testament to Cain's study of the Bard's plays as it is his rumination on truth and bravery.
Unfortunately, Cain snatches defeat from the jaws of victory by insisting on delivering, in the last moments, a gaggingly heavy dose of sanctimony from Shagspeare's daughter Judith. Though some will love the sober summing up, for the rest of us, Judith turns what has been a fairly irreverent, if sometimes tragic, night into a teach-me toe-curler. And who is this contemporary playwright who gives the men all the fun, profundity and big questions and leaves the sole female as representative killjoy? She may have a few good lines over the laundry, but really!
Still, such blind spots aside, Equivocation is a very cleverly constructed play. Moving the drama between real-time events as the Bard seeks the truth and scenes of the play he begins to draft, Cain deftly blends reality, memory and literary license. A difficult construct to stage, director Bill Rauch handles all with consummate skill. With a tiny cast of six, and with five of those playing not only Shagspeare's acting troupe but all the other characters, the energy and cohesion of the ensemble is paramount and, at least until Judith puts on the kibosh, it works.
The cornerstone of the production is a seriously interesting and quite riveting Anthony Heald as the great quill himself. Presenting as utterly effortless and natural in the way that only the very skillful can, Heald creates a wonderfully believable, dimensional man. Engaging, nuanced and with great comic timing, he keeps Cain's idyll firing on all cylinders. This is dampened only when Cain gets in the way. When, for example, Shagspeare rages once and intensely at Judith, Cain's rationale simply doesn't justify the incongruity. What Cain does express well, and Heald conveys in a truly sublime rendering of parental pain, is Shagspeare's despair and regret at the loss of his son.
As troupe member Richard and the ill-fated priest Garnet, Richard Elmore brings much gravitas and fine emotional detail to his men. He is particularly affecting as the quietly charismatic but very human Garnet and delivers Cain's core questions of what it is to equivocate with subtle clarity. Taking the large role of Robert Cecil, the King's lapdog, and also troupe member Nate, Jonathan Haugen does a good job of keeping his men distinct. He gives his Cecil a large, unsettling, almost graphic presence, which well befits Cain's vision of this man's deeply stained soul.
EQUIVOCATION




To Jan. 1
Arena Stage
1101 6th St. SW
$51-$66
202-488-3300
arenastage.org
Deeply committed to the ensemble (both Cain's and Shagspeare's), John Tufts as King James, prisoner Thomas, and troupe member Sharpe, offer almost boundless energy and, as the King, excellent comic timing. A budding talent, Tufts leans slightly more towards volume and "actorly" intonation than he needs. As troupe member Armin and a host of other characters, Gregory Linington ably carries a significant load and, when opportunity arises, delivers his characters compellingly. Finally, as Judith, Christine Albright brings a quietly palpable presence to her beleaguered daughter delivering her occasional one-liners with enough snark to make them funny. Although there's nothing she can do about Cain's need to turn Judith utterly humorless at the end, it would have been nice to see her try.
Final minutes aside, Equivocation is a multi-crowd-pleaser, a fun and emotive evening whether you care to tally the Bardian references or not.