A little edgy, a little existential and a lot funny, Second City's Spoiler Alert: Everybody Dies, is a high-energy riff on the idea, more or less, that we are all fated to the lives we wind up leading. Whether you find the concept circular or profound doesn't really matter: It's all still an evening of educated, inventive, wildly silly, sometimes potent comedy delivered by a talented ensemble ready to gnaw at the idea from every conceivable angle.
However, if you care to look closer it also pays to note that this is a collaborative effort between Second City and Woolly Mammoth. The cross-fertilization has injected the piece with freshness and flavor. Though the revue-style sketches, songs and moments of improv are all present (as expected), there runs a deeper thematic feel to the piece, something that drills down beneath the clever humor and begins to rummage around in the psyche. In other words, it's not just about the run for the punch line or the talented clowning (although there's plenty of that). It's also about the creation of character, mood and an exploration of the human condition (yes, that thing), all via a kind of metaphorical slang instead of big words. And, generally, it works, even as the laughs come fast and furious.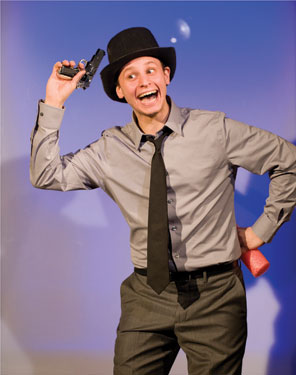 'Spoiler Alert' at Woolly Mammoth: Aaron Bliden
(Photo by Michael Brosilow)
Pacing with flair the sketches, segues and musical interludes (delivered with wit by musical director Matthew Loren Cohen), director Billy Bungeroth delivers essential continuity and yet gives the players the space they need to bring it somewhere beyond the usual snap-characterizations of typical sketch comedy. And if the tremendous momentum of the first half of the program falls off somewhat in act two, it is more a matter of content than rhythm. For even though the second half has some clever improv (involving some minor audience torture) and several other bright spots, the humor begins to lag and the theme wavers and wanders. By the finale, the proceedings leave off with more of a whimper than a bang. Spoiler Alert knows where it wants to go but hasn't quite figured out how to get there.
Academics aside, Spoiler Alert is an extremely entertaining evening and a wonderful ensemble piece. Carrying the comedy with the greatest of ease and natural timing are Aaron Bliden and Travis Turner who, with very different styles, make anything seem funny, whether it be macabre, ridiculous, or totally thin on the ground. Fully centered and unassuming, Bliden simply waits for his moments and then blithely, joyously attacks. He is fresh, hilarious and utterly natural. Bursting with presence and born for irony, Turner completely owns his characters and makes them positively sparkle with wit.
Though not a comedy-exuder in the manner of Bliden and Turner, delivering an excellent straight man with a seriously good deadpan, James T. Alfred brings his own special magic. He offers something more than just good comedy — he brings the gravitas of someone with dramatic chops, lending the piece much of its depth. Poised but ready-for-anything, Maribeth Monroe provides a cornerstone of solid comic technique but also clearly relishes the more abstract, questing aspect of this production. She's not so much about "being" funny as she about "creating" funny. A Woolly company member, Jessica Frances Dukes carries some of the more solemn moments with authenticity. Completely at home, if very slightly more obvious, Scott Montgomery, a seasoned writer in his own right, offers some memorable improv and many of the crowd-pleaser moments.
SPOILER ALERT: EVERYBODY DIES




To Jan. 8
Woolly Mammoth
641 D St. NW
$30-$60
202-393-3939
woollymammoth.net
When it comes down to it, whether you achieve deep thoughts on destiny or not, with this much comic talent in one place, it's about sitting back, taking advantage of Woolly's relaxed beverage rules, and having a good, solid, educated laugh at the expense of pretty much everybody. Including yourself.