Tori Amos's left hand had to know exactly what her right hand was doing at her concert at DAR Constitution Hall on Monday, Dec. 5. For a few measures of a few songs, the gorgeously frocked Amos faced the audience and played a baby grand on her left while she tickled an electronic keyboard on her right.
Her physical straddling of acoustic and electronic instruments signified several things. Most immediately, it displayed Amos's agility and cognitive dexterity with the ivories, which she's been tickling since she was a toddler growing up in Maryland.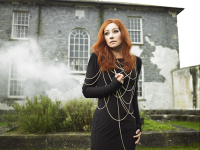 Tori Amos
Gaga, pray tell, can you play two instruments — three, if you include the voice — at once?
The physical feat also reveals the lengths to which Amos will go to challenge herself, all in pursuit of art. But she's such a consummate performer, you're happy to accept her musical experiments, even if you don't quite get them. After all, the straddling technique seemed more for show than substance: The effect didn't really enhance the resulting sound. (It also didn't detract.)
From the refined way she walked on and off the stage, to the focused way she stayed almost exclusively behind or betwixt her instruments, Amos was as serious minded as if she were giving a classical recital. Which, to some extent, she was.
Amos is explicitly straddling the divide between classical and pop on her current tour, which is in support of Night of Hunters. The Deutsche Grammophon set is a "21st Century song cycle based on classical themes" — in other words, a classical album with modern pop influences, something like the opposite of a classical-crossover set. (A pop-crossover album?)
The string quartet Apollon Musagète joined her on stage as it did on record, and worked with her to split the difference between the dramatic piano pop hits from her repertoire and Night of Hunters's classical compositions. Interspersing fine versions of many familiar tunes — "God," "Winter," "Pretty Good Year, "These Precious Things," even a sweet cover of John Lennon's "Imagine" — helped sell the more challenging new material, as well as helped keep a hometown audience engrossed.
And the drama of the whole performance was captivating. Amos regularly pounded on her piano — even literally pounded the front of her piano with both hands once during "Crucify" — and occasionally sang with digital reverb, so her vocals would linger like a ghost. And as she concluded a piece, she would dramatically throw the sheet music on the floor. The string musicians often played their instruments full of fury, with heavy staccato, feverish runs and even a few intentional screeches. It's a wonder the strings never broke, but they didn't, as far as I could tell.
The lights added to the evening's intensity, right down to the electric chandelier over Amos's baby grand that flickered white or shone bright blue or deep red, even purple, depending on the moment. '
"Got enough guilt to start my own religion," Amos sang — and it should be noted she was in top vocal form — from her early hit "Crucify."
If this performance is the standard liturgy in her religion, sign me up.
Remaining dates in the Night of Hunters Tour
Dec. 10
Chicago, IL US
Chicago Theatre
www.ticketmaster.com
Dec. 13
Vancouver, BC CAN
Orpheum Theater
www.ticketmaster.ca
Dec. 14
Seattle, WA US
Paramount Theatre
tickets.com
Dec. 16
Oakland, CA US
Paramount Theatre
www.ticketmaster.com
Dec. 17
Los Angeles, CA US
Orpheum Theatre
www.ticketmaster.com
Dec. 18
Los Angeles, CA US
Orpheum Theatre
www.ticketmaster.com
Dec. 21
Austin, TX US
Bass Concert Hall
www.c3concerts.com
Dec. 22
Dallas, TX US
Verizon Theatre at Grand Prairie
www.ticketmaster.com