Even as two Baltimore County police officers became the latest to win equal employment benefits for their same-sex spouses last week, Maryland Attorney General Doug Gansler (D) warned that similar legal fights are in store for other same-sex couples until the state's General Assembly or Court of Appeals take action to clarify how the state recognizes same-sex marriage.
The Baltimore County decision, issued by binding arbitration, to grant the two couples spousal benefits came as a result of grievances filed by Lambda Legal, a legal organization focusing on the civil rights of LGBT people, and the county police union on behalf of Officers Margaret Selby and Juanika Ballard, who had been refused benefits for their spouses.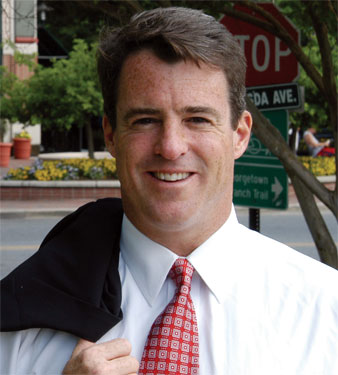 Doug Gansler
Selby, who legally married her wife in Massachusetts, and Ballard, who legally married her wife in Connecticut, had asked the County Police Department to add their spouses to their health coverage. However, the women were denied the benefits because Baltimore County refused to recognize their out-of-state marriages. Ballard was also denied spousal bereavement leave after her father-in-law died.
Although same-sex marriage is not legal in Maryland, Gansler, as the state's top lawmaker, issued a legal opinion in February 2010 stating Maryland would recognize same-sex marriages if they are legally valid elsewhere. Following Gansler's opinion, Gov. Martin O'Malley (D) adopted a policy that state executive agencies would follow Gansler's opinion.
According to Susan Sommer, Lambda Legal's director of constitutional litigation, the collective bargaining agreement between the county and the police union granted spousal benefits to "a spouse in a marriage recognized by the state." Lambda Legal and the police union argued that because the state recognizes same-sex marriages as valid, the county did not have a right to deny the officers spousal benefits.
After hearing the grievance, arbitrator Lois Hochhauser found that denying spousal benefits to the police officers was discriminatory and contrary to the county's agreements.
In a prepared statement, Sommer said she was pleased that Baltimore County would have to "fulfill its obligation" to the officers by granting them the same employee protections for their spouses that are granted to other officers. She also thanked the Fraternal Order of Police for the union's support.
"We believe the county tried to save themselves a few bucks by penny-pinching at the expense of these lesbian police officers," Sommer later told Metro Weekly.
Ellen Kobler, a spokeswoman for Baltimore County, said the county was still reviewing the arbitrator's decision and declined to comment further.
The decision in the Baltimore County grievances comes less than a week after the Anne Arundel County Public Schools system changed its policy by agreeing to offer employment benefits to employees' same-sex spouses. That policy change came in response to a complaint filed by Lambda Legal and the Maryland Commission on Human Relations on behalf of Stacy Pipkin, an administrator for Anne Arundel County Public Schools, who had wanted to enroll her wife in her health plan but was also denied. The Pipkins were legally married in D.C. in April 2010.
In June 2011, a Washington County, Md., circuit judge ruled that Sha'rron Snowden of Williamsport, Md., was privileged from testifying against her spouse, Deborah Snowden, in a domestic violence case. Just as with the cases involving benefits, the judge found that even though Maryland does not allow same-sex marriages, it recognizes valid same-sex marriages performed elsewhere.
In spite of these victories for same-sex couples, Gansler told Metro Weekly that his opinion is not binding when it comes to policymaking on the county level.
Gansler said his opinion, based on precedent and the jurisprudence of the state, lays out what he believes the Court of Appeals would do if confronted with the issue of recognizing same-sex marriages. He also stressed that his opinion doesn't carry the same weight as a law passed by the Legislature or a decision by the Maryland Court of Appeals.
"Certainly, private industry is not subject to it," Gansler said of the opinion. "And the counties aren't subject to it. What they've found is they don't have to abide by it – but if and when they get sued, or arbitration process occurs, the reason underpinning the attorney general's opinion will, in fact, be followed.
"So they can deny people their benefits, but they will ultimately lose that battle and be forced to pay back wages and so forth."
Gansler also said that even if same-sex marriage were legalized in Maryland and upheld by voter referendum, both of which could occur in 2012, the law would only deal with in-state same-sex marriages. As a result, the same hurdles couples face to have their out-of-state same-sex marriages recognized would remain until the Legislature or the courts address the issue, either separately or as part of a more comprehensive marriage-equality bill dealing with both in-state and out-of-state marriages. Only then would the resulting law or ruling supersede his opinion.
Gansler and Sommer both noted there are a number of other issues, in addition to benefits, related to recognition of same-sex marriages, including second-parent adoption rights and divorce.
"Given that we're in an area of change, there are several issues that will need to be worked out," Gansler said. "This is something we're going to see from time to time until the matter is resolved by the General Assembly."