Virginia Attorney General Ken Cuccinelli, the Old Dominion's firebrand and sometimes controversial top law enforcement officer, told his staff in a Dec. 1 email that he plans to run for governor of the commonwealth in 2013, as first reported by The Virginian-Pilot.
Cuccinelli, a Republican, was previously thought to be a possible challenger to incumbent Democratic Sen. Mark Warner in 2014. But his decision to step into the governor's race means he will have to run in a Republican primary against current Lt. Gov. Bill Bolling, who previously announced his intention to run.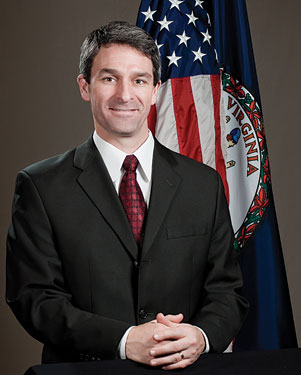 Ken Cuccinelli
Republican Gov. Bob McDonell has thrown support behind Bolling, but Cuccinelli's popularity, particularly with grassroots conservatives and the tea party, are expected to make the race competitive.
In the email to his staff, Cuccinelli said that although he was expected to run for re-election as attorney general, he felt he could best serve the people of Virginia from the governor's office.
In a public statement, Cuccinelli said he wanted to "ensure that there would be no misunderstanding from this point on." He said he would focus on his job as attorney general and would formally announce his gubernatorial run at a later point.
"Politically, we as Republicans need to continue to work toward less government, fostering an environment that increases jobs and improves our economic condition, and strives to elect a Republican President, a United States Senator and Congressional Delegation that will not only carry Virginia, but bring back to our nation a federal government that restrains itself in terms of both spending and the exercise of power, consistent with the first principles on which this nation was founded," he said in the statement.
Cuccinelli made headlines early on as attorney general when he advised public colleges that they could not adopt nondiscrimination policies protecting LGBT students. He has weighed in against rules that would prevent private agencies from using sexual orientation as a basis for denying someone the opportunity to apply to become an adoptive or foster parent, and has called homosexual acts a "detriment to our culture."
Cuccinelli also terminated the state's relationship with a law firm after the firm backed out of its contract with the U.S. House of Representatives to defend the Defense of Marriage Act (DOMA).
Not surprisingly, LGBT groups are not embracing Cuccinelli's decision to run.
"I find it disappointing," says James Parrish, executive director of the nonpartisan LGBT rights organization Equality Virginia. "He has not been a friend to the LGBT community and has taken what we feel are actions to deny whatever rights we have been trying to achieve."
Tiffany Joslyn, president of the Virginia Partisans, a Democratic LGBT political organization, says, "I can't help but notice the irony that Attorney General Cuccinelli's announcement came on a day dedicated to increasing awareness of the HIV/AIDS epidemic, World AIDS Day. Particularly because this is a man who has made it his mission to deny access to health care for everyone, impede scientific research and otherwise fight against policies that decrease discrimination and increase tolerance for individuals and families throughout the commonwealth."
Joslyn says Cuccinelli's decision to stay in office for the next two years is "disturbing," as she fears he will use his office as a platform from which he can wage battles against his primary and general election opponents.
"Not only is it a conflict of interest, and potentially harmful to Virginians, it opens the door to further politicization of the attorney general's office," she says.
Senator-elect Adam Ebbin, the only out gay legislator in the General Assembly and often critical of Cuccinelli, sees some hope in the announcement.
"While the prospect of Ken Cuccinelli becoming governor is frightening, his campaign will raise awareness of his record to Virginians, and hopefully, when that record is scrutinized, he will be defeated," says Ebbin.
Attempts to secure comment from the Log Cabin Republicans of Virginia, the state's primary LGBT Republican group, were unsuccessful.