Edwin Aparicio is testing the waters, trying to shift perceptions about flamenco. "American audiences are used to seeing the typical [flamenco] company with lots of girls with pretty dresses — the polka dots, the ruffles, the trails — but not much [focus on] men," says the choreographer. "I thought, 'What if I got good men from Spain and also here and create a show around an all-male cast?"'
And that's exactly what he's done with Flamenco Men, which will have its world premiere as the closing program in GALA Theatre's seventh annual Flamenco Festival. Aparicio, who coordinates the festival, will dance with his Flamenco Aparicio Dance Company alongside three other male dancers.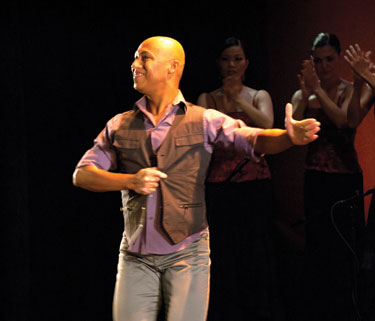 They'll dance mostly for the audience, facing out, not interacting or holding hands as couples. Aparicio says he may push for more couple-oriented dancing next year. "I have another [show] in mind with a couple dancing as two men — maybe gay, maybe straight," he says.
"Flamenco is a very conservative art form," says Aparicio, who is openly gay. "A lot of people would rather not discuss their sexuality. Like in Hollywood, once you come out, they tend to not get you for a [certain] role."
Born in El Salvador but raised in D.C., the 36-year-old has been performing flamenco for nearly 20 years and teaching it almost 12, including at the Washington School of Ballet. He says in the past few years D.C. has become second only to New York as a home for flamenco in the U.S. "It's become a little hub of artists," he says, counting roughly four companies and 10 full-time dancers. "We all get together and help each other."
Flamenco Men is Friday, Dec. 2, and Saturday, Dec. 3, at 8 p.m., and Sunday, Dec. 4, at 3 p.m., at GALA Theatre, 3333 14th St. NW. Tickets are $30. Call 202-234-7174 or visit galatheatre.org.