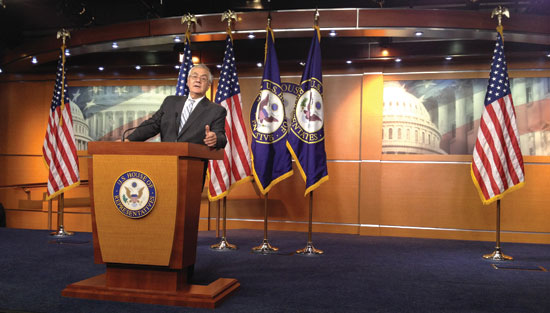 Barney Frank
Photo by Chris Geidner
Rep. Barney Frank (D-Mass.) today told reporters in Newton, Mass., "I will not be a candidate for re-election to the House of Representatives in 2012," announcing the end of a 30-plus year tenure in Congress in which the out gay lawmaker rose to the chairmanship of the House Financial Services Committee in 2007.
The news conference was peppered with examples of Frank's signature caustic wit, with a note that he "did not think [he] had lived a good enough life to be rewarded by Newt Gingrich being the Republican nominee" and a stated desire to debate the presidential candidate about the Defense of Marriage Act.
In addition to discussing the significant change in the constituency of his district because of redistricting, Frank said of the reasons for his decision not to seek re-election, "Our politics has evolved in a way that makes it harder to get anything done at the federal level."
Frank, who is the longest-serving out LGBT member of Congress in the nation's history, added, "I believe that I have been effective as a Member of Congress working inside the process to influence public policy in the ways that I think are important. But I now believe that there is more to be done trying to change things from outside than by working within."
Among the equality-advancing accomplishments pointed to by LGBT advocates and Frank's colleagues in Congress were the 2009 passage of the Matthew Shepard and James Byrd Jr. Hate Crimes Prevention Act and the 2010 passage of the Don't Ask, Don't Tell Repeal Act.
In a statement issued soon after Frank's news conference began, President Obama acknowledged the congressman's service, saying, "This country has never had a Congressman like Barney Frank, and the House of Representatives will not be the same without him.
"He has worked tirelessly on behalf of families and businesses and helped make housing more affordable. He has stood up for the rights of LGBT Americans and fought to end discrimination against them," Obama said. "Barney's passion and his quick wit will be missed in the halls of Congress, and Michelle and I join the people of the Bay State in thanking him for his years of service."
Frank said he planned to continue to impact public policy through "speaking, writing and in other ways advocating for the changes that I think are necessary" rather than by "trying to bring them about inside our constricting political process."
Frank first won election to Congress the same year Ronald Reagan was elected president. After his 1980 election, Frank served without being out until his association with Steve Gobie, who ran an escort business out of Frank's D.C. apartment, became public. Although he received a reprimand from the House in 1990 for actions he took and statements he made relating to Gobie, he was easily re-elected during those years and has served as an outspoken gay member of Congress since then.
As Sen. John Kerry (D-Mass.) said in a statement about today's announcement, "No one's ever doubted for a minute what Barney Frank thinks or where he stands, and if you weren't sure, trust me, he'd tell you. That's the special quality that has made Barney not just beloved and quotable, but unbelievably effective as an advocate and a legislator. He's brave, he's bold, and he's ridiculously smart."
In response to a question from Metro Weekly, White House press secretary Jay Carney said of Frank, "His prominence as an openly LGBT member of Congress obviously had, I think, a very positive impact in terms of general acceptance, but I don't know if it has larger implications. Members of Congress who served a long time decide not to run again all the time, and I'm not sure about the political implications of that seat at all. But, we certainly are very grateful for Congressman Frank's service."
In a statement regarding Frank's decision, Human Rights Campaign president Joe Solmonese said, "Barney Frank has exemplified true leadership over his more than 30 years in the U.S. House of Representatives. As one of the first openly gay members of Congress, Barney defied stereotypes and kicked doors open for LGBT Americans."
Chuck Wolfe, the president of the Gay and Lesbian Victory Fund, issued a statement, saying, "Barney Frank's political career may be coming to an end, but his legacy will outlive us all. His decision to come out as gay more than two decades ago gave LGBT Americans an authentic voice and a persistent champion in Washington. He has used that voice loudly and often, speaking personally, humorously and effectively about the hopes and challenges of Americans who are lesbian, gay, bisexual or transgender."
The importance of Frank's decision was clear when viewed through the prism of social media, with "Barney Frank" being one of the 10 highest "Trending Topics" on Twitter by 11:40 a.m. Above Frank was movie star Anne Hathaway, who was in the news for getting engaged to her longtime boyfriend, Adam Shulman.
In September 2007, Frank made a decision that put him at odds with transgender leaders and advocates of a version of the Employment Non-Discrimination Act that prohibited both sexual orientation and gender identity discrimination. Frank announced that moving forward with such legislation at the time would be a "mistake" and instead urged a path that would allow for a vote on a sexual orientation-only version of ENDA and allow LGBT leaders "to continue the educational process that [he] believe[d] will ultimately lead to our being able to add transgender protections" through consideration of a second ENDA bill that would have included gender identity protections.
In the years since, Frank has been a strong advocate of what has become known as "an inclusive ENDA" that would contain both types of protections, although he has maintained that work remains to be done on transgender issues before Congress will be ready to pass such legislation.
In introducing the legislation in the 112th Congress this March, Frank told Metro Weekly, "[W]e have work still to do and we have overwhelming — over 90 percent — support on the Democratic side for ENDA based on sexual orientation and we had, in the last Congress, about 30 Republicans that way. Unfortunately, there's a drop-off from that number to transgender, and this is a chance to work hard to sway those who are committed to ENDA to support the full transgender inclusion as well."
Mara Keisling, the executive director of the National Center for Transgender Equality, told Metro Weekly, "While the relationship between Congressman Frank and transgender people has not always been smooth, the truth is that he has pushed very hard for trans rights in Congress and the administration over the last few years.
"Social justice work is largely about winning people to our side. As they become stronger allies, we have a moral and common sense obligation to embrace them and acknowledge their good work," Keisling added. "The effort and influence he has exerted for trans people has mattered and has moved us down the field."
In 2010, however, it was work outside of LGBT issues in his role as chairman of the House Financial Services Committee for which he may be most well known in the broader political world. Working with his Senate counterpart, then-Sen. Chris Dodd (D-Conn.), the two worked to address the ongoing financial crisis through passage of the Dodd–Frank Wall Street Reform and Consumer Protection Act, which was signed into law in July 2010.
House Minority Leader Nancy Pelosi (D-Calif.) pointed to that work in a statement, saying, "In the aftermath of the worst financial crisis since the Great Depression, [Frank] led the effort to enact the landmark Dodd-Frank Act, creating a consumer financial protection agency, reining in Wall Street and bringing stability and transparency to a financial system run amok. This achievement exemplified his time as Chairman of the Financial Services Committee during one of its most productive periods of legislating in recent memory."
Frank is slated to hold a second news conference, in D.C., with Washington reporters on Tuesday, Nov. 29.