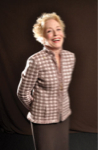 On seeing Holland Taylor's portrayal of former Texas governor Ann Richards for the first time, Don Temples cried. "It was as if someone I love very much, who I know is dead, was suddenly there again," says Temples, who used to work for Richards as well as the Human Rights Campaign. For Taylor, the Emmy Award-winning actress who plays the curt and at times caustic mother on Two and a Half Men, and who has hit both gay and lesbian fan bases with her role on The L Word and in Legally Blonde, it was Richards who was amazing. Following Richards's death in 2006, Taylor decided putting the governor's life onstage was the way to go. "I just had all this energy swirling around about her," she says. "Were I a painter, I would have painted her. Were I a composer, I would have composed a symphony dedicated to her." Read the full Metro Weekly cover story interview with Holland Taylor here. Ann: An Affectionate Portrait of Ann Richards plays through Jan. 15, 2012 in the Kennedy Center Eisenhower Theater. Tickets are $54 to $95. Call 202-467-4600 or visit kennedy-center.org.
Holland Taylor photographed for Metro Weekly by Todd Franson.
Get Spotlight in your inbox. Join our mailing list.
Win free movie passes. Take our Metro Weekly Poll.