It's tough to say what director Tomer Heymann wanted out of I Shot My Love, an hour-long documentary about identity, family and desire. He opens the film interviewing Noa, his sickly mother, about his grandparents, who fled Nazi Germany to Palestine in 1936. Later, he records intimate discussions with Andreas, a German dancer he meets at Berghain after presenting at the Berlin International Film Festival. His life, it seems, is the movie's subject and the struggles of the two people closest to him are its storylines.
Heymann claims to "incessantly" film, turning his camera onto those he loves, recording the goings-on around him. I Shot My Love, as a result, is surprisingly poignant at times unexpected; when his mother cries about losing her sons or Andreas tries to describe his experiences with sexual abuse, sadness resonates and shakes within you. Through his work, you can feel Heymann's aches.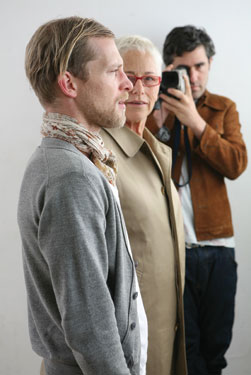 "I Shot My Love"
The message, however, lies somewhere in the intersection between Heymann's relationships and national identity. Andreas moves to Tel Aviv to be with him; Noa suggests he should "find someone who's in [his] field." A relative digs up a Passover seder card translated in German from the 1930s for Andreas; Heymann sits in silence while Andreas's parents weep while reading a Bible passage about the birth of Jesus on Christmas. I Shot My Love isn't suggesting that religion is an impassable barrier, but rightly considers how tradition affects the complex realities of a relationship.
It matters that Heymann stays largely out of frame too. He shows glimpses of a hand and a nose here and there, but he's almost always ethereal, a voice probing for emotional reactions. When he finally turns the camera on himself, he seems jarringly vulnerable — he's an actor in his own drama, no matter how he hides.'
I Shot My Love plays with the short Esther and Me on Wednesday, Dec. 7, at 8:30 p.m. The Aaron & Cecile Goldman Theater, Washington, D.C.'s Jewish Community Center, 1529 16th St. NW. Tickets are $11. Call 202-518-9400 or visit washingtondcjcc.org.