If Glee were to become a Broadway musical, the result would be something similar to Lysistrata Jones.
Oh sure, Douglas Carter Beane's hip new musical, now at Broadway's Walter Kerr Theatre, may be loosely based on Aristophanes's ancient Greek comedy, but Lysistrata Jones is as au courant as today's musicals come. Its pop-culture references are drawn right from the blogosphere (from Newt Gingrich to Siri, who even has a cameo), and Lewis Flynn's music is a pastiche of most of the leading styles — rock, pop, R&B, hip-hop — you hear on Top 40 radio today. It also has the pace and feel of a modern-day sitcom: It's mostly frothy and fun and frenetic, but with just enough of a realistic edge, and an occasional moment to pause and reflect, to keep you engaged.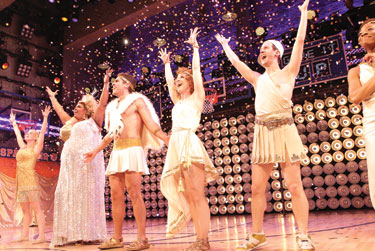 Lysistrata Jones
Lysistrata Jones (the effervescent Patti Murin) is a college cheerleader who strives mightily to whip up some school spirit and turn around a moribund basketball team, which hasn't won a game in 30 years. Lysistrata's main weapon in the pursuit is sex: She rallies her fellow cheerleaders to abstain from sex — even from sexting — until their basketballer boyfriends start upping their game on the court. "No More Giving It Up!" they cry in one boisterous early number.
But it didn't work for Lysistrata's ancient Greek forebear, who provoked a battle of the sexes instead of an end to a prolonged war. Why would it be any different today? Well, in the intervening millennia women have made major advances toward social parity, for one thing. Why, Title IX means that Lysistrata can even take up her cause in (basketball) court, shooting hoops with the boys. That certainly blurs the gender divide.
Ultimately, Beane (The Little Dog Laughed) suggests that sex, as powerful as it is, is no match for love. By the show's end, several characters are in different relationships from when we first met them. Even a gay couple has sprouted. (A gay musical writing duo has fully sprouted here, too: Beane and Flynn are partners "in art and life," Flynn notes in the program.)
In addition to Beane's witty way with words and Flynn's catchy way with music, you'll find great appeal here in Jessica Hartman's inventive way with choreography, which incorporates basketball and cheerleader moves in spectacular fashion.
LYSISTRATA JONES




Walter Kerr Theatre
219 West 48th St.
New York
$25-$130
212-239-6200
telecharge.com
And among a strong cast of attractive young actors who could generally all easily become future stars, Liz Mikel and Lindsay Nicole Chambers stand out. Chambers plays Robin, the show's wry heart. Initially the stereotype of an angsty young feminist, Robin eventually matures to the point that she even scores the hunky, deceptively dumb basketball team captain Mick, played by Josh Segarra. In Chambers's savvy portrayal, Robin has fully kept her wits about her through the transformation: She's Mick's equal, not just his girlfriend.
Mikel, meanwhile, is Hetaira, a one-woman Greek chorus who narrates the show's goings-on (that is, when she's not the uproarious madam of a local brothel). The show may not be named after her character — and she may be just a supporting actress — but Mikel all but steals the show at various points in diva fashion.