President Obama today issued a memorandum "directing all agencies engaged abroad to ensure that U.S. diplomacy and foreign assistance promote and protect the human rights of LGBT persons."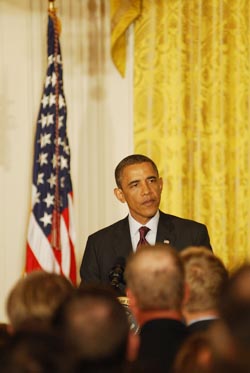 Among the steps required by the memorandum are efforts to fight the criminalization of LGBT status or conduct, as well as to support the protection of LGBT refugees and asylum seekers.
According to a release issued by the Human Rights Campaign, HRC President Joe Solmonese met with Secretary of State Hillary Rodham Clinton earlier today in Geneva. Clinton is to speak about the issue at noon today. (A livestream is to be available here.)
"The Obama Administration has made a tremendous difference in the lives of LGBT people in the United States and this new strategy helps to extend that presidential leadership across the globe," Solmonese said. "There is no question that the administration's record of advancing equality for LGBT people has been enhanced by the leadership of Secretary Clinton who consistently underscores the simple truth that LGBT rights are human rights."
According to HRC, the presidential memorandum is the first ever U.S. government strategy to deal with human rights abuses against LGBT people abroad.
Obama's memorandum requires the Department of State to "lead a standing group, with appropriate interagency representation, to help ensure the Federal Government's swift and meaningful response to serious incidents that threaten the human rights of LGBT persons abroad."
Another portion of the memorandum directs "agencies engaged abroad" to "strengthen the work they have begun and initiate additional efforts" to combat LGBT discrimination and strengthen international policies and programming on LGBT issues.
The State Department details that Clinton's address is a part of Human Rights Day, which it notes "recognizes the adoption of the Universal Declaration of Human Rights on December 10, 1948 by the United Nations General Assembly. The Declaration outlines the inalienable rights of all people and has since served as the benchmark for the extension and protection of human rights and fundamental freedoms."
Developing …
Read the memorandum: 2011lgbt_mem_rel.pdf