"The two women were very public as a same-sex couple," says art historian Wanda M. Corn of Gertrude Stein and Alice B. Toklas. "[But] they didn't have a language for it. [Society] didn't use the word 'lesbian' yet. That was born a little bit later."
As a result, Corn argues that to a certain extent the couple, based in gay Paris nearly a century ago, was hiding in plain sight, at least to an unaware mainstream public.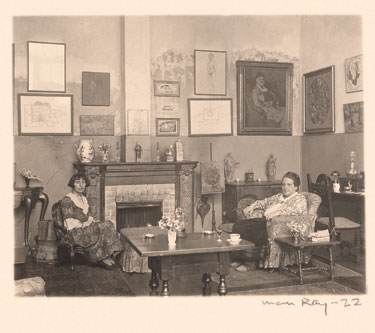 Though Stein's writings about same-sex desire and affections were oblique and often impersonal — and most importantly, unpublished until after her death in 1946 — Corn points out the proof was there all along in the visuals.
Corn is the guest curator of the National Portrait Gallery's exhibit Seeing Gertrude Stein: Five Stories, which focuses on how the famous American expatriate writer presented herself. "Beginning in the '20s but getting really strong in the '30s," says Corn, "[Stein and Toklas] began to pose together for formal portraits." The feminine Toklas was also nearly always by the "mannish" Stein's side in photographs and newsreels.
A retired Stanford professor, Corn's exhibit focuses on Stein's life and legacy, going beyond her celebrated experimental literary works and her widely heralded role in cultivating artistic careers, including those of Ernest Hemingway, Pablo Picasso and Henri Matisse.
More attention is devoted to that which Stein called "her second family," an eclectic mix of artists, including composer Virgil Thomson and writers Carl Van Vechten and Bernard Faÿ. "This inter-war circle around her was made up of gay and bisexual young men primarily," says Corn.
"Seeing Gertrude Stein" follows last year's larger, controversial National Portrait Gallery exhibit "Hide/Seek." "It was almost coincidental that our two shows landed so close to one another in time frame," Corn says. "[Both shows] open up the subject matter of sexuality in a very companionable way."
"Seeing Gertrude Stein: Five Stories" runs through Jan. 22, 2012. National Portrait Gallery, 8th and F Streets NW. Call 202-633-8300 or visit npg.si.edu.