There was a time when young Moises Navarrete might have shied from the spotlight. A few years ago, the attention the Northern Virginia native was attracting was entirely unwelcome.
"I was bullied in middle school and that really hurt me," he shares. "It was the most horrible time of my life."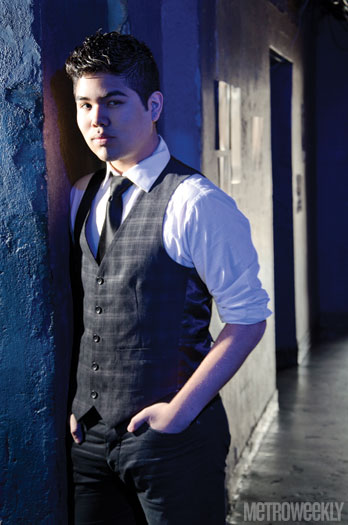 Moises
Moises, however, turned the tables when high school began.
"I don't know how I turned it around, but I did beat up a kid freshman year," he admits. "He was calling me names. I was fed up with it, so I punched him in his face and made him cry."
And that put an end to the bullying?
"Pretty much," Moises says.
While some might frown on Moises's use of violence, they've got to grant that his furious fists might deserve some of the credit for his assessment of his years at Alexandria's Thomas A. Edison High School as the best of his life so far.
At just 18 years old, Moises has plenty of time to make even better years, but he really did make the most of high school. He came out during his sophomore year. He was Edison's – openly gay – prom king in 2011. He even became a bit of an activist.
"I was the president of [Edison's] Gay-Straight Alliance," says Moises. "What I did then was pretty much try to educate people about the LGBT community and then set up fundraisers because we didn't have any sponsors like the other clubs. That's what I did in my senior year."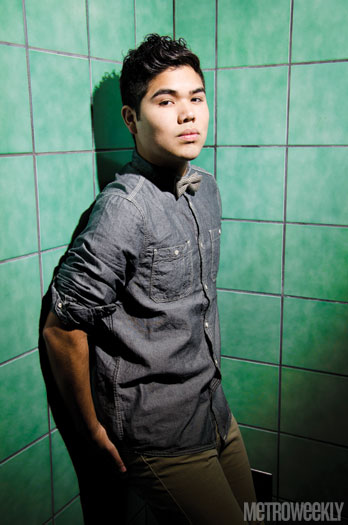 As a sort of LGBT liaison, however, Moises faced a tough challenge at home. His mother has somewhat accepted her son's sexual orientation, though the topic remains more or less "don't ask, don't tell" with his dad. That's not to say that all family ties are strained. Moises's two sisters and an aunt are accepting and supportive – and, along with his friends, part of his Coverboy of the Year campaign machinery. "They were really, really happy for me [when I made the top 10]," he says. "Everybody was sending me text messages about how excited they were. It felt really good to know that they were there for me."
Moises was also excited by the whole Coverboy experience. He certainly has his stash of Metro Weekly issues from Oct. 17, when his initial feature ran.
"There are actually two [Metro Weekly boxes] on my way to work. I grabbed whatever was left in one and put them in my bag, walked a couple blocks [to the next box] and took 'em. Then whoever wanted them could come over, or I'd drop them off. I signed a couple of them. I've got like 20 left."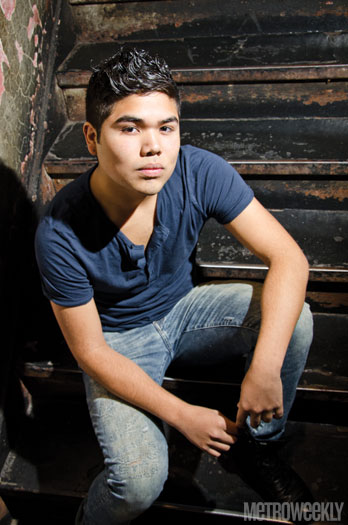 Obviously, Moises has let himself get at least a little caught up in the contest. So much so, he says, that he'll admit to a hint of disappointment if he doesn't win the top spot.
"I'll be a little upset, maybe for like five minutes," he says. "But then I'll get on with my life. To get this far is good enough for me."
For Moises, getting on with his life means earning a degree in photography at Virginia Commonwealth University in Richmond. Knocking out some freshman credits now at Northern Virginia Community College, he plans to transfer in 2012.
Although Moises's focus these days may be on college, the Coverboy of the Year contest had a lesson of its own to teach him: the value of his friends and family.
"I used to think that they just liked me just to have around," Moises says of his close community. "But to see how much they care about me really made me feel good about myself, like I must be doing something right."
SECOND RUNNER-UP PRIZE PACKAGE
$175 Cash
18th & U Duplex Diner — $25 Gift Card
Annie's — $75 Dinner Certificate
Arena Stage — 2 Tickets to The Normal Heart (Preview Week)
Black Fox Lounge — $25 Gift Certificate
Blowoff — 2 Admissions to Event on Jan. 14 at the 9:30 Club
Caramel Boutique — $25 Gift Certificate
Centaur Entertainment — 5 CD Package
Cobalt — $25 Gift Certificate
DC Eagle — $25 Gift Certificate/Bar Tab
FIT — 2 Half-Hour Personal Training Sessions
Freddie's — Freddie's T-Shirt
Hollywood Tans DC — 1 Free Week of Tanning in HT60 Booth
HRC Store — $25 Shopping Spree at DC Store
Image Entertainment — DVD of Bette Midler's The Showgirl Must Go On
JR.'s — $25 Bar Tab
Leather Rack — $25 Gift Certificate
Level One — $25 Gift Certificate
MAL Weekend 2012 — 1 Reaction Dance Ticket
Miss Gay DC America 2012 — 1 VIP Ticket
Nectar Skin Bar — Custom Facial
Round House Theatre — 2 Tickets to Next Fall
Ruff Plastic Surgery — Vector 3D imaging, Visia Skin Analysis and Consult With Clinician
SKIN — $100 of Professional Skin Care Products
State Theatre — 4 Tickets to Zoso – The Ultimate Led Zeppelin Experience
Studio Theatre — 2 Tickets to Bust
Team DC — 4 Tickets to Fashion Show
Town Danceboutique — $50 in Drink Tickets Good for Fridays or Saturdays
West End Cinema — 2 Passes
WSC Avant Bard — 2 Tickets to 1 of the Final 3 Shows of Season
Ziegfeld's/Secrets — $50 Cash
Our thanks to all those nightspots, restaurants, businesses and performing arts venues who graciously provided prizes to this year's Coverboy winners. Certain restrictions may apply to some prizes. Prizes are non-transferable.
The 2011 Coverboy of the Year was photographed on location at the Nightclub 9:30, 815 V St. NW, in Washington, D.C. Visit 930.com