James Hormel fits the role of a statesman well. Turning 79 next month, the former U.S. ambassador to Luxembourg is actively engaged in national LGBT politics as one of the significant funders of the movement – but also as an author detailing part of its history.
His story, told in a new memoir, Fit to Serve, is one likely to resonate well beyond foreign-service circles.
Raised in Minnesota, Hormel says he didn't needz to be told in his youth that homosexuality was bad or wrong: "It was very clear by the way that society behaved that it was bad and wrong, ergo, that I was bad and wrong."
Fifteen years ago, though, President Clinton named Hormel as an alternate delegate to the United Nations General Assembly. The next year, Clinton went a step further and nominated Hormel to serve as ambassador to Luxembourg. Thus began the experience that serves as the centerpiece of his memoir.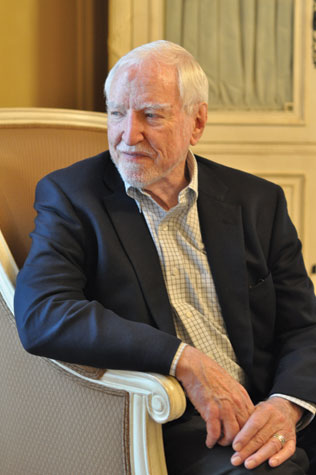 James Hormel
(Photo by Todd Franson)
Several Republican senators balked at the nomination, which would make Hormel the first out LGBT ambassador. They attacked him on a variety of fronts, from his apparent laughter at San Francisco's drag-performing Sisters of Perpetual Indulgence – anti-Catholic, they said – to the content of materials contained in the James C. Hormel Gay and Lesbian Center at the San Francisco Public Library – promoting pedophilia, they said.
When Republicans blocked his nomination through the 1998 elections, Clinton renominated Hormel for the post at the start of 1999. In June of that year, Clinton took advantage of a congressional recess to name Hormel to the post through a "recess appointment," which allowed him to serve in the role despite congressional inaction.
Regardless of his accomplishments, and his continued role in supporting LGBT organizations and research and projects, Hormel's message comes back to that time – time that all LGBT people know well – in the closet.
Speaking about the anti-LGBT messages he and others grow up with, he says, "We internalize these messages, and once we do that it's a real challenge for us to get beyond, which leads to suicide, it leads to alcoholism, it leads to all the things that people do to remove themselves from the opprobrium that they're getting from society. I feel that all of that needs to be addressed."
Coming out, being out, he says of his contributions, is the "most important thing."
His history, however, shows a multitude of contributions, from being one of the co-founders of the Human Rights Campaign Fund in 1981, to his service as the first out LGBT ambassador in U.S. history, to his continued work funding LGBT efforts across the nation.
METRO WEEKLY: You've just finished with this book, looking at, in large part, your nomination and eventual appointment as ambassador to Luxembourg in the Clinton administration, notably the opposition to your nomination from the right. When you look at where things are at today, and where things were then, what has changed?
JAMES HORMEL: Well, I think that we have made a lot of progress. It really is quite remarkable. It's remarkable that there have been a couple of openly gay ambassadors since me. The numbers of presidential appointments are such that I think the current president has probably done more for the constituency than all the others put together, which is saying a lot. When you look back at when Frank Kameny was fired and subsequently started picketing the White House, we've certainly come a long way.
MW: It's remarkable, to me, the tenacity that you, Sen. Feinstein and the Clinton administration had to keep the nomination going forward, and for Clinton to eventually make the recess appointment.
HORMEL: It was. It was amazing to me that the president stuck with me as he did. It wasn't just in support of the nomination, but it was renominating me when the original nomination expired at the end of '98. I was surprised that he was willing to do that – especially considering what was going on in his life, his political life. Every possible effort was being made to make him irrelevant. It was just remarkable. In that regard, I don't think we've come very far – because that's what the Republicans are trying to do to Obama right now. They're looking for any possible way to make him irrelevant. And that's pathetic. That is not what people are elected to do in public office. They're elected to serve the public, and I'd like to see some more examples of that kind of service coming from our Congress.
MW: When you went through the process of writing the memoir, what was the portion where you ended up writing a significant amount about that most surprised you?
HORMEL: That's really an interesting question, and novel to me.
There may be more than one thing. The first that comes to mind is the book became much more autobiographical than I had originally intended. And that was partly because of Erin [Martin]. She said, "Look, people need to know where you're coming from. And, your background and history are a very important part of the story, so we need to tell it." And we ended up dwelling on things, some of which are very personal, that I hadn't intended or expected to talk about.
I was having dinner last night with one of my daughters who lives here in the District, and she was commenting how she was learning things about me that she didn't know. Which I thought was interesting.