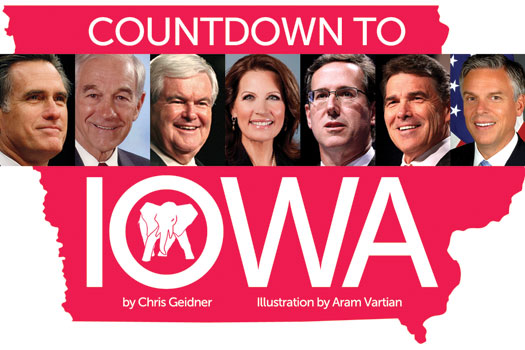 On Tuesday, Jan. 3, the race for the Republican presidential nomination will rack up its first scores on the race for delegates when the Iowa caucus is held. For LGBT Americans, the date marks the start of seeing what type of GOP will be going into the 2012 elections.
Although the conservative bent of Iowa's GOP voters makes it unlikely that the caucus results will have a strong impact on the final outcome of the presidential nomination contest, the subsequent bragging rights – and uncertainty about who might win the caucus – mean that many political eyes, for the next week, are on Iowa.
Although former Massachusetts Gov. Mitt Romney maintains that he is the most likely candidate to receive the eventual nomination, recent surges from former House Speaker Newt Gingrich (Ga.) and Rep. Ron Paul (Texas) have kept Romney from being perceived as the clear front-runner for the nomination.
GOProud Executive Director Jimmy LaSalvia spoke with Metro Weekly Dec. 27 about his assessment of the field heading into Jan. 3. He sees a more important part of the "news out of Iowa" to be whether any of the three strongest social conservatives – who he considers to be Rep. Michele Bachmann (Minn.), Texas Gov. Rick Perry and former Sen. Rick Santorum (Pa.) – can manage to pull off a victory in the state whose GOP caucus picked Southern Baptist minister and former Arkansas Gov. Mike Huckabee in 2008. Former Utah Gov. Jon Huntsman, who supports civil unions for same-sex couples, also will be on the ballot.
"If the anti-gay right is going to coalesce around a candidate to take on Mitt Romney, then that candidate needs to win Iowa. For Bachmann, Perry and Santorum, this is a win-or-lose chance for them," he says. "So that's what we'll be looking for in Iowa. Will any of them be able to emerge as a credible challenge to Romney?"
Although the three candidates LaSalvia points to as having the potential to become the consensus "anti-gay right" candidate certainly have made opponents of LGBT advocates, Paul and Gingrich have made headlines in the past week for actions that those on the left have attacked as being anti-gay as well.
Paul has been attacked for statements about homosexuality and AIDS included in newsletters sent out in his name in the 1990s – although he has disavowed the articles and said he had no idea who wrote the articles in question. Gingrich was attacked for allegedly telling a gay voter to support Obama – although the exchange was more nuanced, focusing solely on a hypothetical voter for whom marriage equality is his or her No. 1 issue.
For the deputy executive director of Log Cabin Republicans, Christian Berle, he believes the focus will not be on social issues, but instead economic ones.
"Polls have consistently shown that potential Caucus-goers are primarily concerned with the economy and jobs as are Republicans across the country," he wrote. "A candidate who keeps message on these primary concerns will be ready to defeat the president in November."
In fact, he tells Metro Weekly that a candidate would be ill advised to promote a "social issue" message.
"It would be a mistake for any candidate to think that focusing on social issues in Iowa or New Hampshire is a winning strategy," Berle wrote. "Such tactics would be a distraction for the nominee and the party as a whole in November."
Nonetheless, Obama campaign spokeswoman Clo Ewing wrote to Metro Weekly, "President Obama's administration has done more to advance LGBT equality than any other, accomplishing the repeal of DADT, signing the Matthew Shepard and James Byrd Jr. Hate Crime Prevention Act into law, ending discrimination based on gender identity in the federal government and helping LGBT youth realize 'It Gets Better."'
As to the GOP candidates, she added, "Meanwhile, in their continuous drift to the right, Republicans, led by Mitt Romney, have come out against advances in the LGBT community – with some going as far as to say they will reinstate 'Don't Ask, Don't Tell.' There is no doubt, the LGBT community is best served by a second term for President Obama."
As for the expected outcome Jan. 3, though, LaSalvia says, "Who knows what will happen? I do think that Romney and Paul are showing the strongest organization there. And since Paul isn't going to go on to win the nomination, either a Paul or Romney win [actually] is a win for Romney. This is a key test for the anti-gay right. This is their key test: Can they get someone to win in Iowa? And that remains to be seen."
For Human Rights Campaign spokesman Michael Cole-Schwartz, whose organization has endorsed Obama's re-election, none of the GOP hopefuls are adequate.
"Certainly none of the leading GOP contenders have shown themselves to be on the right side of LGBT issues," he tells Metro Weekly. "So no matter who emerges as the winner next week, LGBT Americans have a tremendous amount at stake in ensuring President Obama's re-election."
—
Who do you think will win Iowa? Take our latest Metro Weekly poll.