Texas Gov. Rick Perry (R), seeking the Republican nomination for president, pushed out an aggressive anti-LGBT push this week, criticizing President Obama's human rights memorandum that supported advancing LGBT equality in foreign policy and then launching a campaign ad attacking "gays" serving "openly in the military" as part of a "war on religion"
In the ad, Perry says, "You don't need to be in the pew every Sunday to know that there's something wrong in this country when gays can serve openly in the military but our kids can't openly celebrate Christmas or pray in school."
On Twitter, GOProud's board chairman Christopher Barron lashed out on Dec. 7.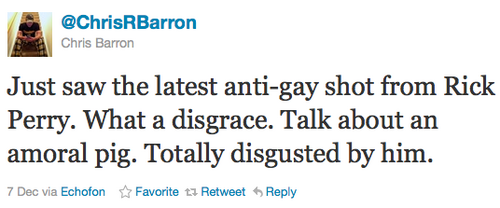 Then, GOProud executive director Jimmy LaSalvia joined in.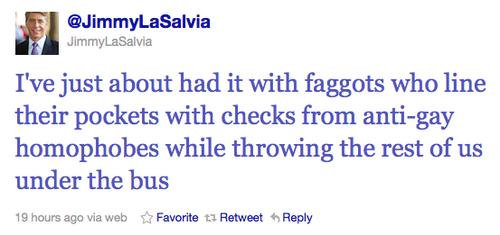 LaSalvia specified later.

Metro Weekly asked Barron about the tweets, and he responded, "Perry's pollster and strategist Tony Fabrizio has lined his pockets with gay money (from folks like [The] Gill [Foundation]) for years and now he sits back and watches as Perry unfolds a designed strategy to demonize gay people to score political points."
Barron added, "Totally disgusting and an example of Washington political whores at their worst."
Asked about questions of whether LaSalvia's tweets were outing Fabrizio, he replied, "We didn't think that there was any question about Tony Fabrizio's sexual orientation. Obviously there are questions, so those questions should be directed to Tony."
The person who answered the phone at Fabrizio, McLaughlin & Associates, Inc., said that Fabrizio is traveling today. A message was left seeking comment.
[UPDATE @ 10A DEC. 9: A joint statement was issued by Barron and LaSalvia this morning. In it, they said, "From the time this organization was founded we have been clear in our opposition to outing. We would never intentionally out anyone. However, in the case of Tony Fabrizio, top pollster and chief strategist for the Presidential campaign of Texas Governor Rick Perry, we did not believe there was any question about his sexual orientation — nor did the reporters who called us to ask about his involvement in Perry's anti-gay campaign strategy. Questions about an individual's sexual orientation should obviously be answered by that individual.
"Let us be crystal clear, however, Tony Fabrizio is not the victim here. Tony Fabrizio has lined his pockets for years with money from gay groups and is now one of the chief architects of a campaign strategy — not just an isolated television ad — intended to demonize gay people in order to score political points. Fabrizio claims he opposed the latest anti-gay Perry television ad. If Fabrizio really does oppose the ad and the broader strategy then the honorable and decent thing to do would be to resign from the campaign. Tony Fabrizio is no junior staffer he is one of the top campaign pollsters and strategists in the country.
"It is obvious that the campaign of Rick Perry is desperate, and in a desperate last ditch effort to become relevant in the GOP Presidential race he and his campaign have decided to employ a strategy that plays to the cheap seats and appeals to the worst in people. Rick Perry should be embarrassed and the people around him who are the architects of this strategy, particularly people like Tony Fabrizio, should be ashamed."]
Watch the Perry ad: