ANSWERING AN EMERGENCY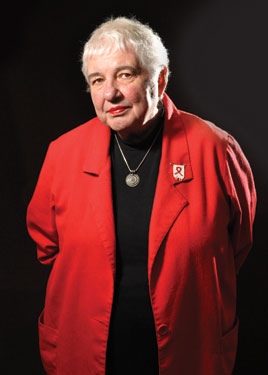 Pat Hawkins
(Photo by Todd Franson)
PAT HAWKINS NEVER went to war, formally, but she's come awfully close. And that's not just an analogy for her frontline service in the fight against HIV/AIDS.
"I spent some time on a kibbutz in Israel, studying the way children were raised," Hawkins, 71, says of her travels as a young woman. "I was there in 1960, '61, so the bombs were falling. We were in the bomb shelter. I was right on the Sea of Galilee. People with machine guns would escort us up into the fields."
Despite the bombs and guns, Hawkins doesn't recall the time with sadness and fear. Instead, she laughs, remembering the puzzled looks on her hosts' faces when she asked where she might celebrate Catholic Mass, everyone having assumed she was Jewish.
From there, Hawkins, originally from Grosse Pointe, Mich., settled in Washington, appreciating the politics, the activism and the proximity to Europe. In the 1960s, pursuing advanced studies in psychology and with a strong interest in social justice, there was plenty for her to do.
"While I was still in graduate school, still working on my degree, I got involved in vocational rehabilitation. I started working at Goodwill Industries, doing evaluations. I went from there to the D.C. government … and worked with juvenile delinquents and kids coming out of Forest Haven [asylum]. That was very exciting work. Then the 'war on poverty' came along."
That war on poverty that launched with the Economic Opportunity Act – "Poverty was considered a disability, if you can believe," Hawkins reflects – gave her the chance to form a comprehensive service center, covering a range of efforts from job training to one of the city's first methadone clinics.
But then came President Nixon and "that was the end of the 'war on poverty,"' Hawkins says bluntly. It wasn't the end of her work, of course. Instead, Hawkins, living in southern Maryland, was approached by someone who asked if she might put to use what she'd learned in the city regarding substance abuse. That's exactly what she did.
"I opened, basically, a 24-hour crisis center, a hotline. We had a runaway shelter. We were actually in an old Nike missile base, with pig farms on one side of us and cows on the other."
While the nearby livestock was obvious, the approaching epidemic was not. Hawkins saw her first AIDS patient in 1982, with no possible way of knowing what was to follow.
"This was someone who'd been in a hospital and had been discharged. They were kind of unclear about exactly what was going on. He presented that he was just very, very sick. He contacted us in crisis mode, being very depressed. My initial contact with him was dealing with some of his conflicts about his gay identity. There was quite a large underground gay community – as there is everywhere – but the proximity to the Navy base made things ever more scary for folks because a lot of military were part of that community, very frightened of being discovered. It was a very rural area and an intensely paranoid atmosphere. We were one place people could come, where they'd heard they could get support."
In the coming months, Hawkins would learn of the AIDS diagnosis. So did this initial patient and the surrounding community. Everyone learned of AIDS, but there were far more questions than answers. Even greater than the questions was the fear and stigma. Hawkins remembers the extra steps she had to take to keep this client safe as panic entered the equation.
"His trailer – he lived in a trailer – was attacked by people throwing stones, so we moved him down to Anne Arundel County. That was my first case. Again, we didn't know it was AIDS when I first saw him. We just knew there was some kind of weird thing going on with him, and it later tuned out it was AIDS."
With little more than the first layer of the mystery solved – a mystery that 30 years later still refuses to give up all its secrets – Hawkins remembers the first clients who already carried the AIDS diagnosis. Volunteering at Whitman-Walker Clinic, today Whitman-Walker Health, in 1983, Hawkins and her partner, Robin Halprin, met their first AIDS patients as a small group.
"When they left, we went around the whole office wiping things down," says Hawkins, illustrating both how much anxiety existed as well as how little information. The story also illustrates that some chose to listen to their better angels. "At that point, we didn't know for sure how it was transmitted. We didn't have a test yet. It was scary. But we were wiping down and we looked at each other and said, 'This is crazy. If we're going to be seeing people, we can't do this all the time and be this anxious.' We stopped. We thought it was probably a virus and not [casually] contagious, but we didn't know that for a fact. But we were willing to take the risk."
That willingness put Hawkins on a path of dealing with HIV/AIDS that continues today. Until AZT was approved in 1987, Hawkins says her job during those first years was largely "helping people die." Though that could be a daunting task under any circumstances, Hawkins points out that those dying were often young, often having to come out to their families simultaneously, and often dying within hours of checking in to a hospital.
With AZT and a test for HIV, people began to live longer. In turn, her work at Whitman-Walker faced new sets of challenges, as case management provided newly needed services and benefits.
Laid off from her position as associate executive director for policy and external affairs in 2008, as Whitman-Walker struggled through restructuring, Hawkins continues the fight against HIV/AIDS, serving as executive director of the DC Community AIDS Network. She grants that the work today is a world away from those first years, with pharmaceuticals ending the onslaught, even if a cure remains elusive. Frustrations, however, remain.
"The sad thing is the people I see now who are dying are dying because of system failure," says Hawkins. "That's part of what's driving me crazy. They're not dying because of a virus. They're dying because the system is breaking down. They can't get their [AIDS Drug Assistance Program help]. They don't get tested early enough. They're not aware they can get on medications to cut down the chances of transmitting the virus.
"There's not enough money. There's an ADAP waiting list in Virginia. These are system failures, education failures. These are not the virus anymore. I would say to anyone coming into this work: The system still needs a tremendous amount of improvement."
To that, she adds for a new generation of people choosing to make their careers on the front lines of HIV/AIDS, that the chance to see a cure is feasible – and that they are building on hallowed ground.
"For the people just getting into this work, they fall in the footsteps of such incredible and heroic men," she says. "The men who went to [the National Institutes of Health] and went through all those horrible experiments so that we'd have the drugs we have now. And all the men who volunteered, who were themselves sick, and watched death play out over and over again before it came to them. That kind of courage you don't get to see very often."
To honor that courage, Hawkins will attend D.C.'s World AIDS Day candlelight vigil, Dec. 1. Long ago, she tried to remember everyone in a book she kept, recording the names of those she knew who died. After 500 names, she had to stop. She may laugh a bit remembering her days of conflict on the kibbutz, but revisiting the early years in the struggle against AIDS can bring tears.
"I just couldn't keep recording all those names. But they're in my head. I remember them. If you thought about all the people you lost every day, you wouldn't get through the day. But World AIDS Day is kind of a chance to just remember everybody. The vigil, I always go to that. It's a chance – a formal chance – to remember people. There isn't a day that goes by that I don't remember people."