AN UNEXPECTED PATH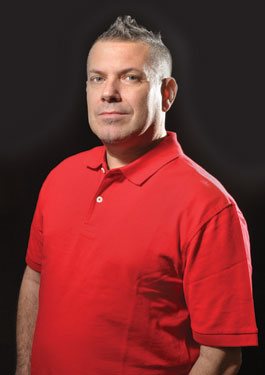 Jose Gutierrez
(Photo by Todd Franson)
AS PAT HAWKINS tapped into her reservoir of compassion to care for those suffering from a new and devastating illness, José Gutierrez was more worried about grades. From 1985 to '88, the young Mexican studied journalism at college in Monterrey, Mexico. His father's death, however, put his entire family on a different path, leading them to relocate to Atlanta, where his sister already lived.
In the late 1980s in Atlanta, Gutierrez, then in his 20s, saw some of his friends dying of AIDS-related illnesses. As a gay man, at that point in history, Gutierrez was on the front line, ready or not.
"I started volunteering with AID Atlanta," says Gutierrez, now 48. "I was handing out condoms and bilingual brochures, and helping people get tested, especially in the Latino community in Georgia. [When I moved to Atlanta] I didn't know too much. We had a lot of misconceptions. We had just a little bit of information about the disease. We didn't know about prevention and medications – nothing. As soon as I started volunteering, I took different trainings."
As Hawkins faced her share of fear and stigma in D.C. and Maryland – with some vandal going so far as to spray paint "fag" on her Waldorf, Md., mailbox – Gutierrez had his own measure of stigma to tackle in Georgia, working both inside cosmopolitan Atlanta and beyond.
"We were working in civic centers, in parks, churches, on the street with different communities," Gutierrez says of his early outreach work. "That was dangerous. In the beginning, they didn't accept that people were talking about HIV, talking about prevention and things like that. When we were talking to Latinos, some people were scared because they were thinking about immigration issues.
"That was really difficult work to do, extremely difficult. That was a difficult time because we had a lot of people who were dying. We had a lot of people in denial. But I learned to be strong."
Gutierrez's entry into the fight against HIV/AIDS – initially as a volunteer and then as an AID Atlanta employee – laid the groundwork for the next chapter: Washington. In April 1993, Gutierrez came to the nation's capital for the March on Washington for Lesbian, Gay and Bi Equal Rights and Liberation. HIV/AIDS was front and center at the event, with calls for greatly increased funding for anti-HIV/AIDS efforts, "die ins" in the streets, urgency and alarm.
"That was a very intense time with ACT UP and Queer Nation. I remember everybody on the street, the big protest. That day was a really intense day. That was a powerful time. There were a lot of people for the march, people protesting, people with rainbow flags. A lot of my friends had HIV and we didn't have a lot of funding to prevent it. There was a lot of energy. I decided that if I wanted to be a great activist, I would need to move to D.C. I decided during the march to focus my energy on helping the LGBT community with HIV prevention."
Gutierrez had said good-bye to Mexico. Now he was saying good-bye to Atlanta, as well as to his plans of a career as a journalist. He moved to Washington in 1994 and has worked in HIV-related work ever since. He coordinated a condom program at the now-defunct LLEGO (national Latina/o LGBT organization). He's served as a research assistant at George Washington University, helping to craft bilingual questionnaires to learn more about community responses to HIV/AIDS. He's worked for the D.C. Department of Human Services and Whitman-Walker Clinic. He's attended HIV/AIDS conferences in Vancouver, Canada and Geneva. It's a path that's taken him, today, to La Clinica del Pueblo in Mount Pleasant, where he's worked since 2008 as a medical case manager, and where all of his clients are HIV-positive.
So much has changed in the course of the epidemic, but not everything, says Gutierrez.
"Now we have a lot of treatments, but the new target populations are different. Now you have a lot of youth, a lot of transgender. The communities and the needs change, and we need to educate people about stigma. I still see people who are rejected for being HIV-positive. In some cases, it's the families. We still have to educate ourselves in order to educate others."
Whatever remains to be done, Gutierrez emphasizes the immense satisfaction that he gets from his work at La Clinica. He helps clients with food, housing and immigration issues. He shows people how to apply for ADAP, or helps them with medical insurance or legal issues.
But along with the satisfaction, there is the surprise.
"Sometimes I think about it and it's like, 'Oh, my God, it's been more than 20 years.' I can't believe it. If somebody had told me [in 1989, this would be my career], I would've said, 'You're crazy. I don't think I'm going to be working 20 years with HIV!' But it's true. It's almost 22 years working in the HIV/AIDS epidemic. I didn't know that the AIDS epidemic was going to be for a long, long time. Twenty years is enough."
After two decades – and still with hopes of being a historian, having founded the Latino GLBT History Project – Gutierrez says the work has taught him to be more confident, more loving and more compassionate, as well as simply how fragile human beings are. Perhaps that's why he's ready to move on, even if he'll stay in the fight as long as he's needed.
"I'm very confident. I pray that we can find something to end the epidemic soon."