FEARLESSLY FORWARD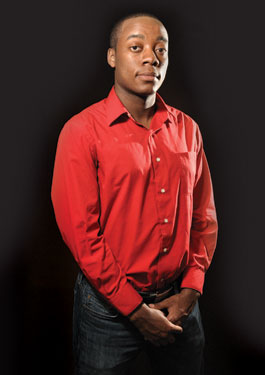 Amari Ice
(Photo by Todd Franson)
AS THE ELDEST of seven children, Amari Ice has always had to be a reliable sort of guy. As a program coordinator at Us Helping Us, People Into Living Inc., the same holds true. But unlike those who came to the HIV/AIDS fight so many years before Ice, he doesn't think about his reliability translating into helping people with the specifics of medications, grief counseling or similar issues. Instead, Ice wants people to lean on him in order to learn how to better lean on themselves. For Ice, "empowerment" is stronger than "epidemic."
"My job allows me to teach people and inspire people, to show people there are different ways to live, that they have the ability and the power to determine their own lives," says Ice. "The information that I'm presenting to people through my programs are essentially those building blocks for empowerment. I'm empowering people to be able to live the life that they want to live."
Ice's work may seem a bit nuanced compared to the work that's come before, but at 23 Ice is definitely of a new generation. Pat Hawkins had buried too many by the time Ice was born. José Gutierrez began volunteering with AID Atlanta when Ice was celebrating his first birthday. With graduation set for May 2012, majoring in communication and culture at Howard University, Ice is also just starting out professionally, though the full-time summer and current part-time commitment to UHU makes it likely that the HIV/AIDS organization will be at least the starting point for his post-graduation career.
And he likes the work. Very much.
"I coordinate two programs. One is called 'Many Men, Many Voices,' aka 'Noir Reflections.' It's a retreat-style intervention that targets black gay men, men of color. We take the group on a retreat in the mountains and we talk about identity, relationships and sexual health.
"The second program is 'D-Up.' It's a group-level intervention. We target people who are opinion leaders in the community, within their social group. We get those opinion leaders and we teach them about STD and HIV prevention. If you teach them to deliberately create and change social norms – in our case, specifically using condoms and protecting yourself – then people will listen. The issue is that people aren't talking about sex, about sexual health. People get told, 'wear condoms,' or whatever, but there's no in-depth discussion about sex."
The world Ice works in is one where the alarms stopped sounding sometime ago. That steady drone has perhaps been replaced by less-frightening alerts chirping. Were it otherwise, Ice isn't at all sure he'd be in this HIV arena.
"I don't think I'd be suited for how it used to be, with the fear of death and dying," he guesses. "That's not the type of thing that draws my personality. I'm more about helping people to live more empowered lives, versus assisting people in their process of dying."
That might actually be gratifying news to some who came before, in that the culture of fighting HIV/AIDS arguably brought gay identity to the fore. With AIDS indirectly "outing" so many, it likely made it easier for Ice to come out at 12 – then again at 14, "because my mother didn't believe me." And the fear that once lurked far beyond every gay ghetto, prompting parents to complain about HIV-positive students in public schools or lead neighbors to chase HIV-positive people from their homes, simply doesn't exist in Ice's world.
Is he scared of HIV? The answer is immediate. "Scared? No. I'm not scared of it. It's not a fear. Not at all.
"When syphilis first came on the scene, people were dying from it and people didn't know what to do. Essentially, it's the same type of environment. Then penicillin gets developed and now we can cure it and it's not as big of a deal. After things have been around for a while and you learn to deal and cope with them, they aren't as intense as they were when they first started off. Anything that's new is going to have a lot more fast-moving energy around it than something that's been around for a while and we understand it a little more than we did when it first appeared."
As was the case with Hawkins and Gutierrez, Ice cannot imagine that he'll be spending decades working in HIV/AIDS. He also believes that a vaccine or other sort of cure cannot be too far off.
"If we just look back 50 years ago and they way people lived in 1961, versus now, so much has progressed at such a faster rate over the last 50 years than the 50 years before that. Think of 1910 to 1960 and the advances in technology, medicine and humanity; versus the advancements from 1960 to 2010. We just keep getting faster and faster at figuring things out, it seems like. I'm sure that it's going to happen pretty fast."
For now, however, Ice is thrilled with working to empower young men to make healthy choices for themselves, particularly – though not exclusively – with regard to HIV. And like Hawkins and Gutierrez before him, he says that in his case the fight is personal.
"Maybe November or December of last year was when I first had an experience with a friend of mine telling me they were HIV-positive. But between then and when I started working [at UHU], I've had seven friends who actually disclosed that to me. So it is kind of a personal thing, too, in that people I'm really close with have been affected by the disease. That drives me as well. I don't have the disease, so I don't think about it every day, all the time. But there are people I care about who have been affected, and I do this work for them too.
"Whenever you're close to someone and something happens to them, you take it personally. That's kind of what happened. It's like I thought, 'I wish there was something I could do.' It just so happened a few months later I was put in the position where I could do something."
Whitman-Walker Health offers a World AIDS Day candlelight vigil in Dupont Circle, Thursday, Dec. 1, at 6 p.m.