"I have no updates for you on the president's position on same-sex marriage."
White House press secretary Jay Carney said the words with exasperation in his voice.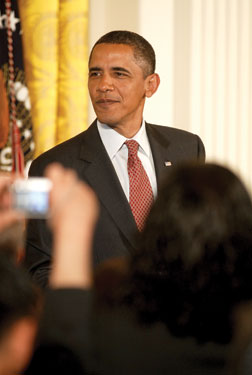 President Barack Obama
(Photo by Ward Morrison)
It was not the first time he has been asked a question that led to that response, and, unless President Barack Obama finishes "evolving" and announces his support for marriage equality soon, it will not be the last time Carney or campaign spokespeople are asked similar questions – and likely give similarly awkward responses.
The problem that the Obama White House and campaign face is that the president is trying to maintain a position that fully satisfies neither supporters nor opponents of marriage equality. When asked by Metro Weekly to comment on former Pennsylvania Sen. Rick Santorum's Jan. 9 claim that he and Obama hold the same position on the right of same-sex couples to marry, Carney had options.
A three-part response showing why Santorum's response is inaccurate would be simple: (1) Obama opposes the Federal Marriage Amendment; Santorum supports it. (2) Obama supports the repeal of the Defense of Marriage Act; Santorum supports DOMA. (3) Obama concluded that DOMA's federal definition of marriage is unconstitutional and his Department of Justice, therefore, no longer defends challenges to that portion of the law in court; Santorum would defend DOMA in court.
A closer look at specific statements by each would draw more distinctions, from the National Organization for Marriage pledge signed by many Republican candidates, to offering partner benefits to same-sex partners of federal employees, to views on state decisions about marriage and so on.
What Carney said, however, was, "I think … you know very well what the president's views are on LGBT issues and civil rights, and the president is very proud of this administration's record on those issues. … But I have no updates for you on the president's position on same-sex marriage. I think that you know and others here know and understand that his position broadly on LGBT issues is quite significantly different from that particular candidate's views."
Then, asked a follow-up question from Mediaite's Tommy Christopher, he added that the president "has spoken to [the issue]" and said he was "sure [Obama] will be asked again about it."
Although the Obama campaign gave a more specific response, it was issued via a statement from a campaign spokeswoman, Clo Ewing, and not announced by Carney in front of cameras and the White House press corps.
Ewing told Metro Weekly and other publications: "President Obama has long believed that gay and lesbian couples deserve the same legal protections as straight couples. That's why he has called for repeal of the so-called 'Defense of Marriage Act' and has taken steps to weaken this discriminatory law until the time it can be repealed legislatively. Meanwhile, both Mitt Romney and Rick Santorum signed the National Organization for Marriage's pledge, which defends DOMA and pushes for a federal marriage amendment."
Why did Carney, who knows all of this, not say so?
Every discussion of what Obama has done to oppose DOMA or otherwise distinguish himself regarding recognition of same-sex couples' relationships begs the question of whether his view on same-sex marriage itself, as Carney was asked repeatedly today, is any different than his Republican opponents.
And, neither the administration nor the campaign want to be placed in the situation of having to issue a statement that Obama opposes marriage equality. Such a statement today would put him in the minority of the country, according to repeated polling conducted over the past year. It puts him in an even smaller minority, percentage-wise, in today's Democratic Party.
What's worse for the president's spokespeople and, really, Obama himself is that they are not going to get a rest from this issue. Even the Republican presidential primary debates have contained significant discussion of LGBT issues, including marriage.
But, more importantly, the U.S. Court of Appeals for the Ninth Circuit could be deciding the case challenging the constitutionality of California's Proposition 8 that was brought by the American Foundation for Equal Rights, Perry v. Brown, any day now.
The decision, first, will need to address the question of whether the proponents of Proposition 8 have the right to bring such an appeal. If the court decides they do, though, it will then decide the merits of whether the U.S. Constitution's equal protection and due process guarantees were violated when Californians passed Proposition 8 on the same night Obama was elected to office.
At that point, the questions are going to get even more uncomfortable for team Obama – unless Obama finishes evolving.
The argument that the administration has laid out now in several court filings across the country is that Obama and the DOJ have concluded that sexual orientation classifications like DOMA should be subjected to heightened legal scrutiny and that, under that heightened scrutiny, DOMA is unconstitutional.
Additionally, the Obama administration already said it believes this standard applies to state and local governments when it issued the 2011 report of its investigation into the New Orleans Police Department. There, DOJ did so in the course of using its investigatory authority to examine potential constitutional violations by state and local law enforcement.
But, once the Ninth Circuit rules in Perry, and the dissatisfied party asks the Supreme Court to take the case, the two issues will have melded, and Obama will be asked if the administration's view that Section 3 of DOMA is unconstitutional applies to the question of whether Proposition 8 is unconstitutional. The question, however, practically answers itself because there is little to no coherent legal basis, in light of statements already made by administration lawyers, for distinguishing the two cases.
Here is where a problem – LGBT supporters and allies' growing impatience that the president hasn't finished "evolving" – can become an opportunity.
As when the president announced – belatedly for some – the decision that he would no longer be defending DOMA in the context of two lawsuits filed in trial courts within the U.S. Court of Appeals for the Second Circuit, the president could use the Proposition 8 appeal to lay out the legal and constitutional basis for completing his evolution on marriage equality.
By filing an amicus (friend of the court) brief* supporting the plaintiffs who are challenging Proposition 8, the president could make very clear to supporters and opponents of marriage equality that he is making a decision about constitutional principles and civil marriage laws – and not a decision about religious principles and the sacrament of marriage.
It was another potential challenger, former House Speaker Newt Gingrich, who artlessly conflated the two in the Jan. 7 Republican presidential primary debate. Obama, whose faith is important to him and whose legal background also is a significant part of his story, could be a perfect messenger to make clear that distinction with the presentation of his Justice Department's legal conclusion to the Supreme Court and his own evolution to the American people.
It would be a powerful way, as Obama said in his "A More Perfect Union" speech in Philadelphia March 18, 2008, "to continue the long march of those who came before us, a march for a more just, more equal, more free, more caring and more prosperous America."
Then, Carney would no longer have to awkwardly sidestep reporters' questions about marriage.
Obama, for his part, also could then respond to the question that his own campaign press secretary, Ben LaBolt, posed to the most likely Republican candidate for president this fall, former Massachusetts Gov. Mitt Romney, on Jan. 9: "Does he not believe all Americans should have equal rights?"
* = "News Analysis: The Nitty-Gritty of Obama's (Possible) Path to Supporting Marriage Equality"