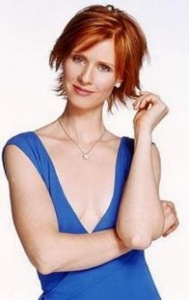 "I gave a speech recently, an empowerment speech to a gay audience, and it included the line 'I've been straight and I've been gay, and gay is better.' And they tried to get me to change it, because they said it implies that homosexuality can be a choice. And for me, it is a choice. I understand that for many people it's not, but for me it's a choice, and you don't get to define my gayness for me. A certain section of our community is very concerned that it not be seen as a choice, because if it's a choice, then we could opt out. I say it doesn't matter if we flew here or we swam here, it matters that we are here and we are one group and let us stop trying to make a litmus test for who is considered gay and who is not.
"As you can tell, I am very annoyed about this issue. Why can't it be a choice? Why is that any less legitimate? It seems we're just ceding this point to bigots who are demanding it, and I don't think that they should define the terms of the debate. I also feel like people think I was walking around in a cloud and didn't realize I was gay, which I find really offensive. I find it offensive to me, but I also find it offensive to all the men I've been out with."
— Cynthia Nixon, whose comment to the New York Times Magazine last Sunday has sparked a firestorm of criticism across the web including:
John Amaechi: "Oh Cynthia, please… It's not that you can't have an opinion, just don't conflate it with the best factual knowledge – that's what they do… and don't mistake what ppl chose to do, with who people are or will become…"
John Aravosis: "[I]f you like both flavors, men and women, you're bisexual, you're not gay, so please don't tell people that you are gay, and that gay people can 'choose' their sexual orientation, i.e., will it out of nowhere. Because they can't. And when you tell the NYT they can, you do tremendous damage to our civil rights effort. Every religious right hatemonger is now going to quote this woman every single time they want to deny us our civil rights. Thanks."
Perez Hilton: "We totally hear her out and true, we cannot define her 'gayness,' but it wasn't a choice for us. We were BORN gay. And millions of gay people around the world feel the same way."

Harvey Fierstein: Folks are jumping down CYNTHIA NIXON'S throat for saying that: A- She's a lesbian by choice. B- She doesn't like the bisexual designation. Would people please get a life and leave the lady alone? There is very little black and white when it comes to sexuality. Isn't that what KINSEY taught us more than 60 years ago? Why are we being as intolerant as the bigots we despise? Let people experience their lives as they experience their lives. It's none of your damn business! Whether we are born this way or not should not be the basis for our citizenship anymore than our religion.
On Wednesday, the ladies of ABC's The View picked up on the controversy. Joy Behar made light of bisexuality, and said there was a "phenomenon" where wives leave marriages with men to be with women later in life. Sherri Shepherd said she did not like reading that event organizers had asked Cynthia Nixon to alter the wording of her speech to fit an "agenda." Shepherd added that, while she believed many gay people claim there is no choice in being gay, there exists some people who say they did choose to be gay and, "You can't say they're wrong."
Barbara Walters said that a problem exists where anti-gay people say, "You chose to be gay. We're going to send you to a psychiatrist to change, to a religious organization to change — we're going to pray, we're going to move the gay, or we're going to punish the gay away." She added, "Many gay people have said, look, 'This is not a choice, this is the way I am.'" Behar agreed with Walters, concluding that Nixon's statement was "a dangerous thing to say."
Celebrity Chef Cat Cora of Iron Chef was on The Talk when host Julie Chen asked what she thought of Nixon's statement. Cora responded:
"Well, I'm gay and I was born this way. So, I really feel like it was dangerous and irresponstible of Cynthia, especially in this environment today when so many young people are taking their lives. I know, growing up as a young gay person, how much you hate yourself — how much you think you're different. And for someone to say, 'It's a choice. You know you can be this way or that way." I just think it's dangerous. And I ask Cynthia to please reach out to the community and say that 'To all the people who do hate themselves right now — all these young kids who are so impressionable, who don't like themselves already — you're OK. One day at a time. It gets better.'"
Opinionated? Take our latest Metro Weekly poll. Win free movie passes!