When is porn art? When is an art gallery a back room?
The answer to both questions is now – at least as conceived by the Vitruvian Gallery. That's especially true this weekend, when the Capitol Hill gallery hosts a reception primed for Mid-Atlantic Leather patrons.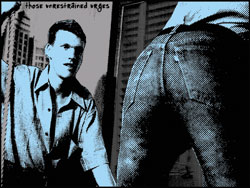 "Instead of leaving the
as nice as it usually is, with drapes and oriental rugs and what have you," explains Vitruvian co-owner Jack Cox, "we're re-creating it to look almost industrial, warehouse, back room." The effect should evoke a seedy red-light district parlor. And all for a show that silk-screen artist Glenn Fry says is meant to be "an homage to vintage gay porn magazines." Though the pieces in Fry's "unrestrained urges" are tame by today's porn standards – largely suggestive rather than explicitly sexual – half a century and another era ago, they were considered pornographic.
"We've been joking with people that it's going to be the hottest show since Robert Mapplethorpe shut down the Corcoran," Cox says, referring to outrage 21 years ago over a planned show featuring homoerotic and sadomasochistic art at the Corcoran Gallery of Art. "In truth, I saw Mapplethorpe's work, and this is far more edgy and graphic."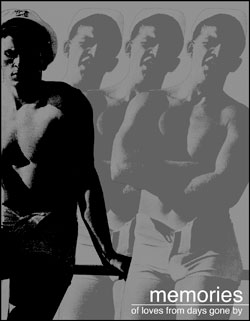 "This is a very different type of show than what most people have seen in D.C.," adds Fry. Still, while the show does feature full-frontal male nudity, and men frolicking and even gearing up to have sex, Fry notes there isn't out-and-out sex on display.
Fry's art was mostly created from photo shoots with live models re-creating vintage images. The installation traces the early evolution of gay porn, before video and the Internet made it easier to come by. Fifty years ago, notes Fry, who is 45, gay men often lived underground, and the porn magazines reflected that. They were distributed in ragtag fashion, "often just copied or mimeographed onto plain white paper and then stapled together and folded and handed out. Very primitive." Fry finds it fascinating how the images became more explicit with each passing decade, starting in the 1950s with muscular men in shorts or G-strings striking bodybuilder poses alone, followed by the beefcake imagery of muscular guys standing or working out together, and eventually men photographed naked and engaging in foreplay.
The artwork will be brought to life at the Vitruvian Gallery, which Cox opened with Larry Hall last fall to be solely devoted to male figurative art. At least some of the models Fry worked with to create the artworks are expected to attend the opening reception this Saturday, Jan. 14. And other models who regularly pose nude for art classes held at Vitruvian have signed up to be greeters and bartenders. They will be wearing the same type of clothing as depicted in the images – which means either not much or fetish wear. Fry suggests a bartender might wear mirrored sunglasses, jockstrap and shoes – and that's it. Those at the door may be in leather.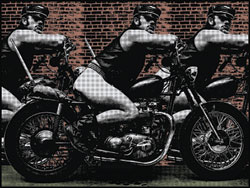 Chances are, patrons will dress the part as well. It was Fry's idea to open the show Leather Weekend. "The whole leather movement really has a lot to do with the evolution of the whole vintage era," he says. "It's very homoerotic, and a lot of people are coming into town for that type of experience."
The installation is a bit of a departure from Fry's usual work, which has included commissions for multinational corporations as well as a family featured on The Real Housewives of DC. A former bartender around town, Fry got his start in advertising. And perhaps it's that earlier line of work that has given him insight into the importance and influence of imagery on society and its subcultures. For example, Fry notes that the gay porn of mid-20th century America reflects the larger culture of its era, when Leave It to Beaver set the tone. "It was just a very pretend type of world," Fry says. "I think that even spilled over into the gay magazines, trying to fit that innocence." And also that era's pretense, when straight men justified buying Playboy for the articles. For gay or gay-curious men, says Fry, it was, "Oh, I'm buying a magazine about bodybuilding. I want to be big like this guy, so I put this up as motivation."
Ultimately, "unrestrained urges" is, says Fry, "a cool little way to pay some homage to what our predecessors had to go through, and just the imagery that they had."
The opening reception for "unrestrained urges" is Saturday, Jan. 14, from 7 to 9:30 p.m. On display to Feb. 18 at the Vitruvian Gallery, 734 7th St. SE, 2nd Floor. For more information, visit vitruviangallery.com.