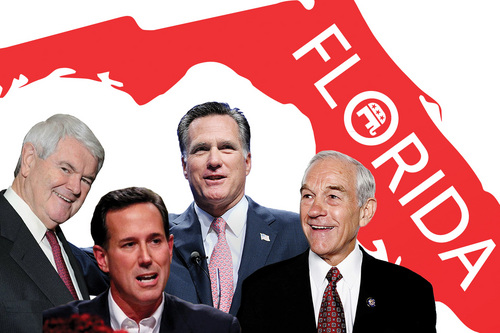 [Image: The Florida primary field. (Illustration by Aram Vartian.)]
At the close of the polls in Florida at 8 p.m. Eastern Time, Fox News was able to call the Republican primary race immediately for former Massachusetts Gov. Mitt Romney.
At the close of the polls in the Central Time Zone panhandle of the state, Talking Points Memo reports that Romney was leading with 47 percent of the vote, with 92 percent of the precincts reporting. Former House Speaker Newt Gingrich had 32 percent of the vote, followed by former Pennsylvania Sen. Rick Santorum with 13 percent, and, finally, Texas Rep. Ron Paul was garnering 7 percent.
The victory was a needed turn-around for the once "inevitable" front-runner, Romney, who lost the South Carolina primary to Gingrich in Jan. 21.
GOProud executive director Jimmy LaSalvia said in a statement, "Tonight, Governor Mitt Romney has won in convincing fashion. This big win for Governor Romney makes it all but certain that he will emerge as the nominee of the Republican Party.
"Governor Romney's win tonight is particularly pivotal given the size of the state and the importance Florida will have in electing the next President. Governor Romney's message of economic hope and renewal has clearly resonated with the voters of Florida," he said. "Other candidates in the field have made it clear that they intend to continue on. The question that Republicans, and conservatives in particular, must begin to ask themselves is whether continuing this process is in the best interest of our movement, the party and – most importantly – our country."
Log Cabin Republicans executive director R. Clarke Cooper echoed LaSalvia, saying, "With a strong showing in Florida, including a win at the Florida Log Cabin Republicans straw poll on Saturday, Romney proves he can build a coalition of conservative voters. Our local chapter leaders report that, like Florida voters overall, Log Cabin members in the Sunshine State were drawn to Romney's business sense and clear plan to return America to prosperity through a strong private sector."
Unlike GOProud, however, Cooper went on to question Romney's actions taken in his effort to win the GOP nod in the Sunshine State, saying, "[T]here remain serious reservations about recent statements by Romney to so-called 'pro-family' groups."
During a Jan. 25 conference call with Ralph Reed's Faith and Freedom Coalition, according to Think Progress, Romney said, "I think he is very aggressively trying to pave the path to same-sex marriage. I would unlike this president defend the Defense of Marriage Act. I would also propose and promote once again an amendment to the constitution to define marriage as a relationship between a man and a woman.
Of President Obama, LaSalvia said, "President Obama has made it clear that he plans on doubling down on his failed policies. Obama and the left are fanning the flames of class warfare in an attempt to distract Americans from the real issues and to avoid taking responsibility. The truth that Barack Obama nor his friends in the liberal media want to discuss, is that most Americans, gay or straight, are not better off than they were in 2008 and that is a product of Obama's failed big government policies.
National Stonewall Democrats executive director Jerame Davis, unsurprisingly, strongly disagreed, saying in a statement, "Mitt Romney's win tonight only proves that he can out spend and throw more mud than all of his opponents combined. It's a pyrrhic victory for a hollow candidate. When you have to buy your way to the top of the polls, it doesn't mean voters like you — it just means you have more money to tar and feather your competition. The GOP now has a very unpopular front runner, but the not-Romney wing of the Party is still the majority."
LaSalvia, however, said, "To defeat Obama we will need unity in the conservative movement and in the Republican Party and that unity must come soon."
On that note, Cooper was more specific of how his organization believes Romney can achieve that unity, saying, "Republicans of all stripes are strongly committed to replacing President Obama, there is no need or excuse for engaging in antigay pandering or divisive social politics. Log Cabin Republicans are looking for a candidate who can rebuild the big tent, unite our party and claim a mandate to restore liberty and fiscal responsibility to the United States. Whether that candidate is Romney remains to be seen."