Former Massachusetts Gov. Mitt Romney eked out a remarkably narrow win at the Iowa caucuses on Jan. 3 to advance his presidential ambitions — providing space, though, for come-from-behind second place finisher and former Pennsylvania Sen. Rick Santorum to claim some of the success in the first-in-the-nation GOP contest.
The Republican voters in Iowa selected Romney as the state's pick for the 2012 Republican presidential primary nominee, garnering about one-quarter of the votes cast with 30,015 votes. The counting of more than 120,000 votes took until nearly 2:30 a.m. Eastern Time, with former Pennsylvania Sen. Rick Santorum coming in an almost unimaginably close second — eight votes less than Romney, according to a late-night Iowa Republican Party announcement — following a year of debates, changed front-runners by the month, countless TV ads and more.
Romney took to his stage last of all the GOP candidates, speaking a little before 11:40 p.m. Jan. 3 Central Time after being introduced to the crowd by his wife, Ann, who called him "the next president of the United States" — despite not yet knowing whether he'd even won the Iowa Republican caucuses.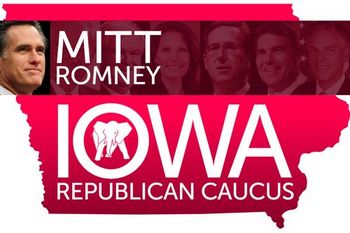 With Romney and Santorum nearly tied in recent polling, the results tonight were not altogether unexpected. Although Texas Rep. Ron Paul had been tied in the recent polling with the two victors, his early pairing with with Romney and Santorum eventually lost force as he fell behind and came in a clear third, capturing about 21 percent of the caucus votes.
Garnering just 10 percent of the vote in Iowa, Texas Gov. Rick Perry announced to his fans about 11 p.m. Jan. 3 that he is returning to Texas "to determine whether there is a path forward for me in this race."
Romney began his speech by briefly congratulating Santorum for his strong finish, noting that both spoke before either knew the victor of the Iowa caucuses. He quickly, however, talked about how "all three of us" — referring to Santorum, Paul and himself — would be continuing the campaign to defeat Obama.
Although Romney has said he "does not believe in discriminating against people based upon their sexual orientation," it is not clear whether he would support the Employment Non-Discrimination Act, which would make such discrimination illegal. He does oppose marriage equality, however, although he has been questioned about same-sex marriages performed under his watch as governor of Massachusetts.
On Jan. 3, however, he did not reference social issues or even, aside from the brief mention at the beginning, his primary opponents. He focused on Obama and his "failure[s]."
He said, "We are an opportunity land," noting about successful immigrants and others, "They didn't make us poorer by being successful, they made us better." Of Obama, he contrasted his view with the president by saying, "He wants to make us an entitlement society."
Romney ended with a reference to the Jan. 10 New Hampshire primary, where he has had a substantial lead in the polls, saying: "On to New Hampshire. Let's get that job done."
Santorum, who traveled to all 99 counties in Iowa and only picked up traction in the polls there in recent days, began his speech well past 11 p.m. Jan. 3 — yet before he knew Romney had won — by saying, "Game on."
The former Pennsylvania senator, who traveled to all 99 counties in Iowa, has expressed his anti-LGBT views — long established — throughout this campaign, having recently told NBC's Chuck Todd that he believes current same-sex couples who are legally married would have their marriages declared "invalid" if a federal marriage amendment that he supports were to be added to the U.S. Constitution.
Santorum spent parts of his speech tonight talking about his biography and other Republican candidates, but he then spoke for a portion of his speech about jobs, the economy and the GOP campaign against Obama. Unlike most of his primary opponents, he mentioned his opposition to same-sex marriage and abortion in his remarks.
Santorum concluded tonight by looking to the future, saying, "We are off to New Hampshire because the message I shared with you tonight is not an Iowa message … it is a message that will resonate throughout this land. With your help and God's grace, we will have another fun night a week from now."
Paul took took the stage at his campaign's election night party at a few minutes past 10 p.m. Jan. 3, saying his campaign was "one of three" to have its ticket punched to pass out of Iowa — but then added that his campaign is "one of two that can run a national campaign and raise [the needed] money," an attack on the Santorum campaign's organization.
When Gingrich took to his stage a little past 10:15 p.m. Jan. 3, he praised Santorum's campaign, saying, "He waged a great, positive campaign." But then, Gingrich added, "I wish I could say that for all the candidates."
Although Perry sounded a retreat following his showing in Iowa, Minnesota Rep. Michele Bachmann was fiery in her rhetoric, stating that the party needed to nominate a "fearless conservative, with no compromises on his record" and suggesting that she would be continuing forward despite garnering only 5 percent of the vote in Iowa. Former Utah Gov. Jon Huntsman did not campaign in Iowa, but has spent significant time in New Hampshire in recent months.
In a news release, GOProud executive director Jimmy LaSalvia said of the results, "Tonight, we congratulate Governor Romney and Congressman Paul on their strong showings in the Iowa caucuses. It is clear that the message of economic renewal and limited government is resonating with Republican voters."
Santorum was not mentioned in the GOProud release. When asked about Santorum's results, GOProud chief strategist Christopher Barron told Metro Weekly, "Santorum isn't a national candidate. He isn't even appearing on the ballot in several places. Rick Santorum's success in Iowa essentially ends the campaigns of Rick Perry and Newt Gingrich — the only realistic alternatives to Mitt Romney. All in all tonight is a very good night for Mitt Romney."
Log Cabin Republicans executive director R. Clarke Cooper went directly after Santorum in his organization's response, saying, "Log Cabin Republicans are confident that ultimately our party will select the candidate with the best chance to win the White House. Rick Santorum is not that candidate."
Cooper said, "Of the candidates who participated in the Iowa caucuses, Governor Mitt Romney was one of the best on issues affecting LGBT Americans. By contrast, Senator Santorum rose by appealing to a uniquely socially conservative electorate."
Explaining the path forward for GOP victory, Cooper said, "The divisive social issue politics which helped Santorum's campaign in Iowa will only hurt him in New Hampshire and beyond as voters learn more about his record. Winning the White House will require the politics of addition, not division."
A week before tonight's caucuses, a CNN/Time poll asked what issues Republicans in Iowa care about. The economy took a strong first with more than 90 percent of respondents saying the issue is extremely important or very important. In contrast, more than 70 percent said so about foreign affairs and national security policy and just more than 50 percent said so of moral issues such as abortion and gay marriage.
In addition, 19 percent of survey respondents said that moral issues were "not that important." In contrast, only 2 percent said the same of foreign affairs and none said so of the economy.
In 2008, however, former Arkansas Gov. Mike Huckabee, a conservative Southern Baptist minister, won the Iowa caucuses. Santorum's unexpectedly strong showing in the 2012 caucuses showed the continued force that social conservatives play in the Iowa caucuses, even if some — like Paul, Barron and Cooper — question Santorum's ability to succeed across the nation.
Santorum's name had become a punchline during his low points early in the campaign due to Dan Savage's dissatisfaction with Santorum's views on homosexuality back in 2003, as the U.S. Supreme Court considered the constitutionality of sodomy laws in Lawrence v. Texas. Santorum told an Associated Press reporter at that time, "In every society, the definition of marriage has not ever to my knowledge included homosexuality. That's not to pick on homosexuality. It's not, you know, man on child, man on dog, or whatever the case may be." Savage then associated his name on Google, with the help of others, with "the frothy mixture of lube and fecal matter that is sometimes the byproduct of anal sex," as detailed early in Santorum's presidential campaign by Mother Jones.