Maryland Del. Heather Mizeur (D-Montgomery Co.) and Del. Keiffer Mitchell Jr. (D-Baltimore City) rallied marriage equality supporters in Silver Spring Thursday night, Jan. 19, urging them to actively engage legislators and have "gut-wrenching" or "difficult" conversations with their friends and neighbors about the need to pass a marriage-equality law.
"Tonight is meant to be a wake-up call," Mizeur told those assembled at the Silver Spring Civic Building. "We don't let our side and our voices match the passion and enthusiasm of the other side. … We're here for a purpose, and it's to find out how we can be as motivated as the other side, so that we will finally get marriage equality passed in Maryland."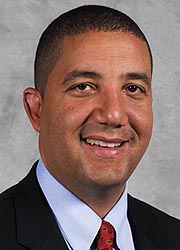 Keiffer Mitchell Jr
The meeting served as a recruitment push by Marylanders for Marriage Equality – a coalition of various religious, political, labor and community groups, including the Human Rights Campaign – seeking to get a marriage-equality bill passed through the General Assembly, and then defend it at the ballot box as any such law is likely to face a referendum challenge.
As part of that push, the organization is recruiting volunteers to run phone banks in Bowie, Adelphi and Silver Spring.
Sultan Shakir, the campaign manager for Marylanders for Marriage Equality, told those in attendance, about 100 people, that phone banking was crucial to finding supporters in all areas of the state, not just historically progressive areas like Montgomery County.
Shakir encouraged potential volunteers to be willing to put themselves in uncomfortable positions, to have awkward conversations when phone banking or canvassing for votes.
Shakir offered a story of one organizer's efforts to find a predominantly African-American church or minister in Prince George's County supportive of marriage equality. Despite a number of hostile responses, she continued, undeterred, until she successfully found a church with an LGBT-supportive pastor.
Marriage equality has had a rough time getting through the Maryland General Assembly.
Mizeur told the audience that once the biggest hurdle was removed in 2011 on the Senate side – a Judicial Proceedings Committee skewed against marriage equality – it made it easier for the bill to move "very quickly and very unexpectedly," eventually garnering 25 votes from the 47-member state Senate. However, once the Senate passed the bill, opponents of same-sex marriage mobilized and members of the House were deluged with complaints, angry phone calls and threats. Mizeur even recounted that one of her colleagues was threatened by a priest.
Mitchell, too, told of "walking a gauntlet" amid a crowd of opponents of same-sex marriage, comparing it to his father's accounts of breaking down racial segregation in schools.
"They were calling me everything but a child of God," Mitchell said. "And the last person who spoke to me before I went inside was an African-American man with a mustache – I'll never forget his face – saying, 'Mr. Mitchell, I don't want you to go to hell."'
In the face of that opposition, many previous co-sponsors or proponents of the bill pulled their support, forcing advocates to negotiate an agreement with House Speaker Michael Busch (D-Anne Arundel Co.) to recommit the bill to committee in hopes of raising the issue in 2012 and keeping the support of some supporters who seemed to be buckling under the pressure.
On Monday, Jan. 16, Busch announced that he would assign the marriage-equality bill to both the Judiciary Committee and the Health and Government Operations Committee. Such an assignment means the committees – the latter perceived to have far greater support for marriage equality than the Judiciary Committee – will vote on the bill jointly, possibly diluting opposition in the Judiciary Committee.
Mizeur said she believes the bill's referral to two committees, as well as expressed support from Gov. Martin O'Malley (D), would give the bill the votes needed to pass out of committee.
David Turley, coalition director of Marylanders for Marriage Equality, struck a hopeful chord at the end of the evening.
"We can and will win this if we do everything we can to win," he said.