No matter how you look at her, Catie Curtis is certainly not unsung. Not only has the gay singer-songwriter earned substantial accolades for her craft, she's also pulled in legions of devoted fans who have fallen for her richly fluid voice.
Come Thursday, Jan. 26, she'll be firing up those vocal chords, along with her guitar, for the benefit of the Mautner Project: The National Lesbian Health Organization.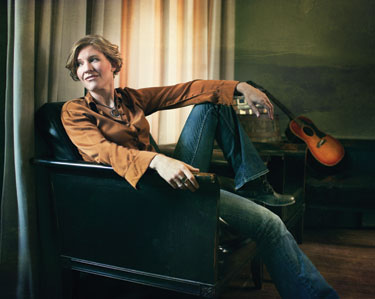 Catie Curtis
(Photo by Joseph Anthony Baker)
"This is really special," Curtis says of the benefit show. "My friend [Mautner board member] Christine Delucchi really feels strongly about Mautner. She had cancer and really benefited from their services. Just knowing how important they were to her, I want to step up and help them support other women."
For Curtis, coming back to the D.C. area is also sort of a homecoming. This may be her first Mautner fundraiser, but the Massachusetts-based Curtis has been to D.C. a couple of times at the request of a different organization: the White House. She's performed twice at the unparalleled venue since the Obamas moved in.
"I brought my family," Curtis says of a visit to the White House with her wife Liz, and daughters Lucy and Celia. "My 7-year-old, Celia, had a really hard time with it, because she couldn't cartwheel in the White House."
"An Intimate Evening with Singer/Songwriter Catie Curtis to Benefit Mautner Project" is Thursday, Jan. 26, at 7:30 p.m. at the Montgomery College Cultural Arts Center, 7995 Georgia Ave., Silver Spring. General admission is $35. VIP tickets, $100, include a post-concert reception. Call 202-332-5536 or visit mautnerproject.org.