"Growing up I wasn't a big fan of Ethel Merman," says Rita McKenzie. "It wasn't that I didn't like her. I just thought, 'Wow, she's loud, you know? I liked Julie Andrews [more]."
The irony is that McKenzie is far more like Merman than Andrews. "As I started performing in the theater, people would say that my spirit was like a young Ethel Merman," says the New Jersey native, laughing, "And I thought, wait a minute."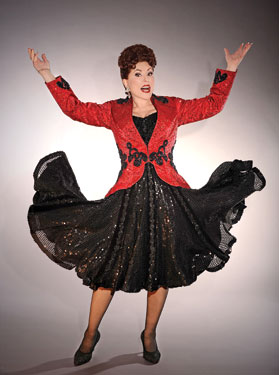 Rita McKenzie as Ethel Merman
(Photo by Keith Munyan)
These days, McKenzie is best known for actually being Merman, who died in 1984. She's been performing Ethel Merman's Broadway since she co-wrote the tribute show 22 years ago with Christopher Powich. Over the years, McKenzie has performed as Merman everywhere from London to Detroit to the U.S. Capitol. She's also performed her show twice off-Broadway. (Plans are in the works to debut the show on Broadway later this year.)
"The things that have come to me in my life … because of the show – I'm very grateful," says the Los Angeles-based McKenzie, who chiefly does voiceover work in television and film when not channeling the irrepressible Merman.
This Saturday, Jan. 21, McKenzie will perform the show for the first time at Strathmore. "[The gays] better show up!" she jokes in the same spunky manner as Merman. "Ethel Merman was a strong woman," says McKenzie, citing a leading reason beyond mere talent that Merman remains popular among gays. "She was a woman before her time. She said it like it is."
In addition to relating aspects of Merman's "tumultuous personal life," McKenzie also performs the many show-tune staples that the "Queen of Broadway" either originated or put her indelible stamp on in shows from the Great White Way's Golden Age, including "I Got Rhythm," "Hello, Dolly," "Anything Goes," "Everything's Coming Up Roses" and "There's No Business Like Show Business."
Ultimately, McKenzie says she's not merely impersonating Merman. "There's a lot of me in the show," she says. "I like to have fun, so there's an element of that in the show."
Ethel Merman's Broadway starring Rita McKenzie is Saturday, Jan. 21, at 8 p.m. Music Center at Strathmore, 5301 Tuckerman Lane, North Bethesda. Tickets are $25 to $65. Call 301-581-5100 or visit strathmore.org.