"When people started calling me Jonny B, I said that's enough," laughs Chord Bezerra. "So I started going by Chord to avoid that."
Of course, opting as a teenager to go by his middle name and not his too-common first name – Jon – provoked its own issue. It struck a dissonant chord, you might say.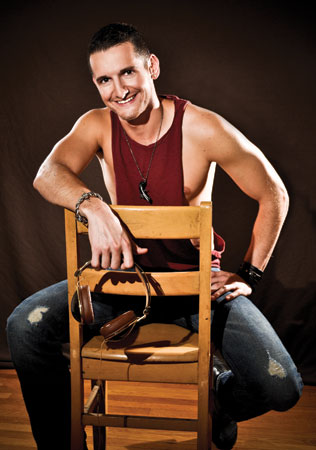 Chord Bezerra
(Photo by Todd Franson)
"I always felt like, okay, well, Chord's a cool name, but I have nothing musical to go by," says Bezerra. "I'd do some drunken karaoke every now and then, but I was told I shouldn't even do that."
Maybe it took longer than it should have, but the man named Chord has finally found his musical calling. Over the past few years Bezerra has become DJ Chord, one of D.C.'s most popular, and increasingly prominent, DJs. He spins every Thursday at Cobalt and rotating Saturdays at L'Enfant Café's wildly popular La Boum Brunch. Next Saturday, Jan. 28, he'll return to the upstairs main floor at Town, after his debut there last October.
"[My father] actually came down with my stepmom and came out to Town and had a great time," Bezerra says. His father, a drummer, was clearly proud to see his son living up to his musical name. "My dad is Brazilian and my mother's Dutch. I got a little bit of that Brazilian samba and a little bit of that Dutch house."
The 31-year-old grew up in Wilmington, Del., and moved to D.C. a decade ago after earning a communications degree from the University of Delaware. Bezerra's first DJ-ing gig was at the Duplex Diner, where he also waited tables. But his first true job in D.C. was at Metro Weekly. His reporting, which focused on fashion and style, lead him to a job as a buyer at Universal Gear. Though he left that job in 2007 when he moved to L.A. with his boyfriend James, he immediately rejoined the D.C.-based clothing company upon returning to Washington in 2010. Now, as the company's buying and marketing manager, he's ultimately responsible for every product and promotion at all Universal Gear stores – in D.C., Rehoboth and New York. "I get all the good and the bad feedback," Bezerra laughs. "Our customers are not shy when they have an opinion."
Bezerra's night job informs his day job, and vice versa. And sometimes the two merge into one: Universal Gear is throwing an upcoming underwear party at Club XS in York, Pa., and Bezerra is in charge of the event, from soup to nuts – or really, underwear to turntables.
"I'd say it's a good mix," Bezerra says of his sound as a DJ. "I'd say pop house, with a little hip-hop mixed in there. Can you make all of that one word, pop-house-hip-hop?
"I think of DJ'ing as providing people with a chance to have fun…to be able to sing along and dance," he continues. "It shouldn't be Mass, it shouldn't be homework, it shouldn't be a learning experience."
DJ Chord spins Saturday, Jan. 28, at Town Danceboutique, 2009 8th NW. Cover is $8 before 11 p.m., or $12 after. Call 202-234-TOWN or visit towndc.com.