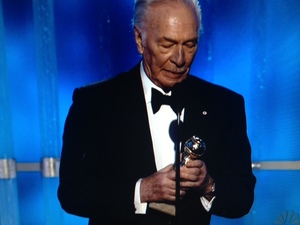 Christopher Plummer took home the Golden Globe for Best Supporting Actor in a Motion Picture for his role as Hal Fields, an older man only coming out in his later years, in Beginners at tonight's 69th annual Golden Globe Awards.
In accepting his award, Plummer was playful to his co-star, Ewan McGregor, who acted the role of his son, Oliver, in the film, as well as to writer and director Mike Mills.
"I want to salute my partner, Ewan — that wily Scot — Ewan "my heart's in the highlands" McGregor. That scene-stealing swine from the Outer Hebrides," Plummer told the audience gathered for the Hollwood Foreign Press Association's annual awards. "Also, a 21-gun salute goes to Michael Mills, whose talent and wisdom made Beginners such an enchantingly human story."
Mills talked with Metro Weekly about the casting of Plummer and McGregor back when the film came out, saying, "I can't really think of an actor while I'm writing, or I'll end up doing a bad version of them. It just limits me. I just write, and then after there's this horrible moment of like, 'Oh, fuck, who's going to play this?' The tricky thing about this is I had to cast a father and a son together. There are so many actors that could play each of those roles, but they wouldn't have been good together. When the idea of those two came up, I was like, 'Holy shit, that's really good.'"
Among the night's other winners were Madonna, whose "Masterpiece" from her movie W.E. won Best Original Song over Sir Elton John's "Hello Hello" from Gnomeo & Juliet — and the Glenn Close-written "Lay Your Head Down" from Albert Nobbs.
Backstage, according to the official Golden Globes Twitter feed:
Madonna says Elton John is great and I'm sure he'll win something soon…
Finally, Meryl Streep won Best Actress in a Motion Picture – Drama for The Iron Lady.
In noting the wealth of great women's roles in 2011, Streep listed Pariah's Adepero Oduye as an actress who could have been up on the stage accepting the award for Best Actress. Metro Weekly's Chris Heller wrote of Oduye's performance, "To call her performance a breakout is almost a disservice — it's too composed, too elegantly poised to suggest that luck was a factor."
The Academy Award nominations, meanwhile, will come out on Jan 24, one month in advance of the Feb. 26 awards show where the Oscar winners will be announced.
READ all the winners here.
WATCH Plummer's acceptance speech here: