Jamie Scott killed his lover.
"I hear the sirens blaze in the distance, her blood still on my hands," Scott sings on the moody, lilting "Goodbye Geoffrey Drake," a track from his soul/pop band Graffiti6's debut album Colours.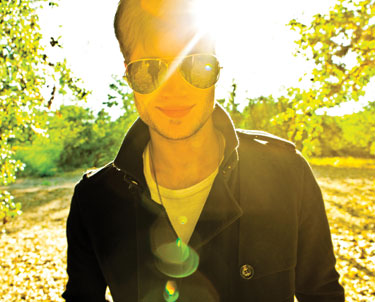 Of course Scott is singing metaphorically. Assuming the role of a troubled character, he's decided the best way to get over his lover is to off his love for her. But he only comes to that resolve eight tracks into an 11-track album riddled with the pain of heartbreak.
Colours masterfully follows the emotional arc of someone struggling to rebound from a breakup. It launches in full shock, and full musical frenzy, with "Stone In My Heart," as Scott cries for help to be stronger, wiser as he smarts from a lover who has called the whole thing off.
"Her last words keep raining down, no shelter," he sings on the Cee Lo Green-worthy soul-pop of "Stare Into The Sun." "You took your love, babe… Now the colors, all melt together."
Other songs capture regrettable, understandable moments when a jilted lover gets lost in the memories of a faded love ("Annie You Save Me"), begs a former paramour to try one more time ("This Man"), or looks to the other partner to prop him back up ("Free"). It definitely can take a while to get up the gumption to move on.
"And maybe, yeah, it took a long time," Scott sings on the gorgeous acoustic ballad "Over You," which closes the album. "When you're running from truths, that you can't find."
The truth, as it were, is that Colours is the type of album that will speak to many of different backgrounds and experiences – even if you don't notice or pay any attention to Scott's sharp lyrics or smart sequencing of tracks. Scott shines full color on his lyrics through his tender tenor voice and gorgeous falsetto, and he never overdoes the emotion or his vocal stylings like so many others. He's a more mature-sounding and altogether better-voiced singer than Adam Levine, for example — and working with music producer Tommy D, Graffiti6 is a far more accomplished, wide-ranging pop band than Maroon 5.
Ultimately, it is Graffiti6's music that grabs you first and foremost. You hear traces of the mostly '60s-era old-school folk, soul and rock that Scott, only 27, says he grew up listening to, from Marvin Gaye to Cat Stevens to the Rolling Stones. All told, what you hear is a perfect blend of old and new pop, with much debt owed to Mark Ronson and especially his work producing the late, great Amy Winehouse. Not everyone who loves Amy Winehouse – or Maroon 5, or even soul in general – will love Graffiti6. But they should at least give Colours a listen.
And fans of adventurous electronica bands like Air, Zero 7 or Portishead should give a listen to the album's mid-section, which includes "Goodbye Geoffrey Drake." It's really the set's peak, with tracks going off on a musical adventure toward the trippy, slower tempos, away from the rest of the set's relatively straightforward mid- and up-tempo pop. Some people may have already heard the standout "Calm The Storm," since it was featured in a recent CSI:NY episode. This is a haunting, sultry R&B jam, featuring emotive acoustic guitar, resonating bass, trilling piano, tender organ – and beatbox-style percussion that keeps it all from drifting into dreamland. On top of that musical bed is Scott cooing in his falsetto about how he wishes and wants to calm the storm of his life. A chorus responds by sweetly chanting the titular refrain.
By this point in the album, Scott's emotional storm has mostly blown over. Scott has met someone new on the breezy, Air-esque title track. There's a new spring in his step. "You light the way through the dark," he sings. "Now I'm seeing colors."
Later, "Never Look Back" swings at a jaunty pace, with sweet jangly guitars and Scott singing in an echo-y reverb as he sings to his new love, "I will live my life to love you."
But the song does find him truly stronger and wiser than he was on the album opener: The risk of getting hurt again, he explains, outweighs the notion of not ever loving another.
"But if my heart should lose you baby, and you just walk away," he sings, maturely acknowledging that this and any love may not last, "Then I'll say: I will live my life and not look back. I will give it all and not look back. I will live my life, darling, till the sun turns black."
Fortunately, Colours, an exceedingly confident debut, suggests only bright days ahead for Scott and TommyD.
Download These: "Calm The Storm," "Free," "Never Look Back."