In the wrong hands, Pariah could have easily settled as the sum of its parts. Its premise — a poignant look at a black teenage lesbian's life in Brooklyn — was catnip for the festival circuit when it landed at Sundance last year. With that appeal, plus executive producer Spike Lee's backing and a sprinkle of luck, the movie sounds like a tidy, by-the-numbers introduction for writer and director Dee Rees.
Under Rees's careful eye, however, Pariah is anything but. Rees has created something personal, rare and stirring, a poignant story that beautifully explores the social standards and barriers within its own fractured culture.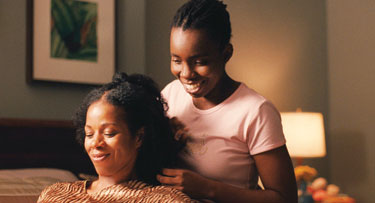 Pariah: Wayans and Oduye
Alike (Adepero Oduye), a 17-year-old high school student, takes the lead as the movie's titular outsider. She's not comfortable as a traditional butch or femme, frets about losing her virginity, and can't see fitting in with straight crowds. At home, she hides her sexuality from her homophobic mother (Kim Wayans) and stern father (Charles Parnell), although the former harbors suspicions and hoists them onto the latter between marital spats. Alike is only comfortable with her best friend, Laura (Pernell Walker), whose feelings for her may be more than platonic. And when she finally stumbles into a relationship with a like-minded girl (Aasha Davis), it's nowhere near what she expected.
Pariah is the finest coming-of-age movie to find its way into theaters in years. Starting with the opening frames, where Khia's "My Neck, My Back" bumps through a lesbian club while Alike gapes and panics to lyrics like "Lick my pussy and my crack," it's easy to see that Rees cares immensely about this story. When Alike is riding a bus back to Fort Greene in the next scene — literally shedding her AG clothes in favor of an gender-traditional outfit, lest she face her pious mother's wrath — it's clear why Rees gave Pariah such a warm palette and intimate look. The story, or at least a part of it, is inspired by Rees's own.
But Pariah is not autobiographical, and it's the better for it. Under the protective umbrella of fiction, Rees explores all sorts of conflict removed from her own life — domestic violence, especially. And that's the brilliance of Pariah; it turns a gay-friendly movie into a story about identity. Anyone who had difficult teenage years — which, let's face it, means everybody — can relate to Alike, can see a reflection of themselves in her wet, sad eyes. Our experiences may not be as harrowing or as fundamentally important as hers, but we still recognize it. We can still feel it.
PARIAH





Starring Adepero Oduye, Kim Wayans
Rated R
86 Minutes
Opens Jan. 6
E Street Cinema
Of course, it helps to have Walker's and Parnell's delicate performances as support, not to mention Wayan's overwrought one. Rees plumbs their perspectives without judgment, offering a keenly sharp portrait of the environment that shapes Alike. For better or for worse, that environment pushes and pulls her along, fueling a path toward independence. Oduye radiates it all, yearning without being sentimental. To call her performance a breakout is almost a disservice – it's too composed, too elegantly poised to suggest that luck was a factor.
Rees balances Oduye's careful act with gorgeous camerawork, shooting behind corners and framing characters between everyday props to ground each scene in an urban reality. In a sly move, cinematographer Bradford Young opens his shots wider and brighter as Alike grows into her sexuality and identity; until that moment of self-realization, she's a chameleon, draped in a wardrobe that blends with her cramped surroundings. Alike's transition is a difficult one — and relationships are destroyed along the way — but it's necessary to the message of the movie. And when coupled with the cast's stellar acting, Pariah delivers that message with such unrelenting clarity that it's hard not to be impressed.