"I won't be specific," Wilson Cruz says, "but there's a show on television right now, a fairly new show, that wanted me to come in for a role, and I found it incredibly offensive."
His manager, Cruz tells Metro Weekly, had said no to auditioning for the role. But, Cruz – who made his first mark playing out high school student Rickie Vasquez on the '90s TV show, My So-Called Life, and then took on the role of Angel in Broadway's Rent – wanted her to go a step further.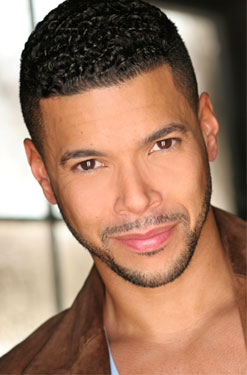 Wilson Cruz
"I said, 'I want you to call them back and tell them why I'm saying no. They need to know that this is really offensive, and they're going to get shit about it,"' he says. "And she did, and they told her that I was being overly sensitive."
Asked if the show's name rhymes with "smirk bit," Cruz laughs and says, "It might."
ABC's Work It was canceled this past week, after significant criticism and insignificant ratings, and Cruz keeps pushing forward, fighting perceptions of queer people of color on stage and screen – and fighting for LGBT equality across the country.
After having served as a field organizer for the National Gay and Lesbian Task Force in 2002, Cruz will be "returning" to the Task Force for one weekend, performing a cabaret show about love at this year's Creating Change conference.
Rea Carey, the Task Force's executive director, first met Cruz while serving as the head of the National Youth Advocacy Coalition.
"Wilson – because it is his life – has the ability to give voice to queer people of color. He used to be, at that point, queer youth of color. And that was very rare in the '90s," she says. "And, unfortunately, still, there aren't enough of those voices and enough of those stories that get told. Or probably more specifically, get listened to."
Cruz works to tell others' stories on stage and screen for a living, but he also takes the time to, as he says, get his hands dirty and tell his own story to people across the country. Working with the Task Force in 2002, Cruz spent time in Miami-Dade working to protect the nondiscrimination ordinance there.
Sarah Reece, who works at the Task Force as the director of the Academy for Leadership and Action, was in Miami with Cruz. Of his work, she says, "Folks understand that when they're with Wilson, he is someone who cares as much about his commitment to excellence as a performer as he does building a community that values all of us."
Sometimes, that dedication comes with a price. On Election Day in Miami in 2002, there was a torrential downpour and Cruz decided to help a woman on her way to the polling place.
"I had an umbrella, and I went over to her car, helped her out of the car, and before I got to the 100-yard mark, I started to talk to her about how to vote on the issue," he says. "She stopped and asked me if I was asking her to support gay rights, and I said yes – and she spit on me."
Cruz kept on, though, walking her into the polling place, helping her back to her car when she was done voting, and – as always – keeping an optimistic outlook.
"Those are the chances you take," he says. "She may have voted the wrong way that day, but I hope, in some way, she went home and thought about that experience and maybe she did vote differently later on."
METRO WEEKLY: What will you be sharing with folks at Creating Change?
WILSON CRUZ: I'm actually doing a bit of a cabaret for them. It's called Love Child because, growing up, I had an affinity for the song "Love Child." Just because I think I was a bit of a love child growing up.
My idea of love was a bit skewed. It was always about, if there was no pain involved, then it wasn't really love – really messed up.
I'm going to take people on a journey about love, what I've learned about love in the past 10 years. I think it's a great thing to talk to the Creating Change folks about because I've done a lot of this work. I've been a field organizer for the National Gay and Lesbian Task Force, I've worked on the Obama campaign, I'm a pretty political person. What I've realized is that, in doing my work as an activist and an organizer and such, we lose sight of what it is that we're actually fighting for.
I'm in the process of picking music that is going to help me tell that story. It's the story of falling in love, and what we do to sabotage that, and how we find ourselves ready to be open to loving again.
MW: You say you grew up with a very different definition of love. Why is that?
CRUZ: Growing up with the parents that I've been allowed to have – that's how we define our loving experiences, by our parents and how our parents model that for us. My parents were very young when they had me – they were 19 – and they were unmarried when my mother became pregnant with me. I think the reality of their socioeconomic circumstances helped define what their relationship was. And, so, I viewed love through that prism.
They struggled in their relationship. It was about breaking up and getting back together and breaking up again. This back and forth was what I thought love was about – only to find out, later on, that it didn't have to be that way. At least, I decided that it doesn't have to be that way.
MW: We hear, I think, a lot more today, more stories of difficulties faced by people of color coming out, and how those stories are less reflected in the media, in the public understanding of what coming out is. I just had the opportunity to see Pariah last weekend –-
CRUZ: Amazing.