MW: What is your experience of coming out, and how have you seen that reflected in public discussion of coming out?
CRUZ: I dealt with that issue a lot early on in my career – the coming-out process. And then I did a lot of speaking about it, at universities, to GLBT groups. In many ways, I've used my art and my life and my experience to convey what it was like for me to come out.
In many ways, all you need to do is watch 19 episodes of My So-Called Life and you'll see exactly what it was like. I wasn't forced out; I was prodded out by the fact that I was on this series that was dealing with this issue. And so I decided to come out publicly and with my family. I needed to do that because of the subject matter that we were dealing with on the show, and I knew that questions were going to be asked and I needed to be able to answer them from an authentic place.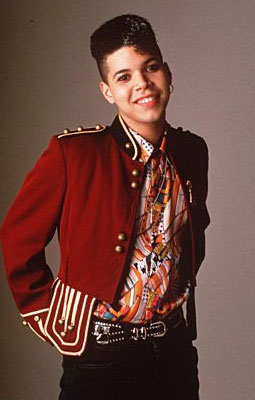 Wilson Cruz from 1994's "My So-Called Life"
MW: So, you were cast for the show. Had you already had all of these conversations?
CRUZ: I wasn't out to my parents yet. I actually didn't come out to my parents until after the pilot of the show. I was out to everyone else in the world – except my parents. And, after having conversations with my parents, they clearly knew. They just didn't want to know.
There was a year between the pilot and the actual first episode that was shot because the show was passed over for the fall season the first time it was submitted. So, in that year, I came out to my parents. I came out to my dad at Christmas, just like the show did, and I was kicked out of my house and I lived in my car for a few months in between Christmas and the time that we actually started filming the series. I lived on people's couches if I had to, and that kind of thing. And we didn't reconcile, my father and I, until that episode actually aired, which was almost a full year later.
So, in a lot of ways, I owe that show my reality because I came out to my parents because of it. I reconciled with my father because of it. It was a very odd experience. It was very surreal.
MW: And, in a broader context?
CRUZ: I feel like most of the coming-out stories we see in media are white and male, and that's why when I saw the short of Pariah at Outfest Fusion like three or four years ago, I was blown away. I got to meet the director and writer, Dee Rees, at that screening, and she was saying she wanted to make it into a full-length feature. I remember saying to her not only does she want to do it but that she needs to do it, and that I would support it in any way I could. Which is why, when it came here to New York and they asked me to be on the host committee of the premiere, I said, "Absolutely." I have become friends with [Pariah star] Adepero [Oduye] because we sat on the jury of NewFest last year.
I think that the movie itself is, first of all, really beautifully done and the performances are ridiculous. But, above and beyond everything else, I feel like it really allows you into a world that we've never been allowed in before. It's so authentic that you don't feel like you're in a foreign country; you feel very much at home when you're watching it, even though it's a new place for all of us. This is a very specific story about a young woman of color and her experience, and yet I felt very in tune with everything that she went through.
I hunger for those stories to be told. In this day and age, that we don't see more of them is a travesty. And, more of a travesty is that – what is it, 20 years since My So-Called Life? – we have yet to have a major GLBT character of color like that on TV. We've had adults, but I'm talking about a youth.
I mean, thank God for Chris Colfer and for Glee and for all of the work that they're doing. I wish that Ugly Betty had stayed on for a few more years so they could have dealt with it more, because I thought that was very promising. But, I mean, hello? People want to see themselves. They want to turn the television on and feel like they're being seen and heard. I think there's an opportunity that's being missed there.