Ooh la La Cage. It's holding up remarkably well for a nearly 30-year-old musical, especially one that reflects an era of gay life often written off as ancient, outré history. Alas, the show's themes of marriage and family — and how to define and defend them amid conservative political machinations — remain all too familiar.
Nevertheless, the touring version of the 2010 Broadway revival, now at the Kennedy Center, still treats La Cage aux Folles as a period piece — visually closer, even, in Matthew Wright's fun costumes, to its '70s roots on the French stage and screen. Call it timeless, then — Harvey Fierstein's 1983 adaptation of Jean Poiret's original farce, and the plucky score by Jerry Herman that reaffirmed the hitmaking skills he'd not exhibited since Hello, Dolly! and Mame in the '60s.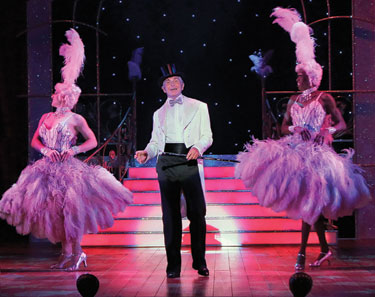 La Cage aux Folles: George Hamilton
(Photo by Paul Kolnik)
George Hamilton and Christopher Sieber star as Georges and Albin, who have spent 20 years building a life together on the French Riviera in Saint-Tropez. Georges owns the nightclub where Albin headlines as the drag diva Zaza, and the apartment upstairs is where they've raised Jean-Michel, whom Georges fathered during a drunken one-night stand.
Now 24, Jean-Michel (Billy Harrigan Tighe) has come home to deliver the news of his engagement to the daughter of Edouard Dindon (Bruce Winant), a staunchly anti-gay lawmaker who'd like nothing more than to see the town's drag clubs shuttered. Georges is flabbergasted, and he can't believe that Jean-Michel is ready to settle down. But Jean-Michel is adamant that fiancee Anne (Allison Blair McDowell) is the woman of his dreams, and he's adamant, too, that Anne's parents be introduced to Georges and birth mother Sybil, not Georges and the flamboyant Albin.
It's here that the farce feels the most forced. No matter how cute you cast Jean-Michel (and Tighe is precious), he comes off as the biggest merde-head in France for asking his father to disguise his life with Albin, and for showing hardly a trace of remorse about doing so. Georges doesn't seem like much of a man, either, for even considering the request, much less honoring it.
But that's what it takes, I suppose — Albin having his feelings utterly trampled by the two men he most adores — to raise the stakes and heighten the comedic chaos when the Dindons show up but Sybil doesn't. Then it's Albin in drag to the rescue, teaching enough lessons about love, loyalty and truthfulness to chasten Jean-Michel and give his future father-in-law his comeuppance.
Sieber is thoroughly endearing as Albin, whether he's working the stage as Zaza or licking his wounds after Jean-Michel turns on him. And his rich singing voice — he nails the defiant anthem "I Am What I Am" — will be a revelation to those who only recognize him from sitcoms. (Who remembers Sieber as the Olsen twins' dad on Two of a Kind? Or as one of the gay dads on It's All Relative?)
LA CAGE AUX FOLLES




To Feb. 12
Kennedy Center
Eisenhower Theater
$65-$130
202-467-4600
www.kennedy-center.org
Unfortunately, Hamilton doesn't match Sieber's energy or skill. Throughout the first act, Hamilton mostly seems to be going through the motions, occasionally turning up the wattage on his matinee-idol smile, as if that's all it takes to get the job done. (It's not.) He really only gains comic traction in his second act exchanges with Monsieur Dindon (nicely played by Winant, who gets fine support from Cathy Newman as his berated wife), and though he doesn't have to stop the show vocally as Sieber does, Hamilton still needs to bring a more refined effort to his songs. I mean, he plods through the loveliness of "Song on the Sand" with deliveries of the phrase "la da da da" that have all the musicality of morse code.
Low energy is never an issue, though, for Les Cagelles, the showgirls who support Zaza at the nightclub. Director Terry Johnson and choreographer Lynne Page have re-imagined them as a less lavish group than in productions past. Smaller, too; there are only six of them now — Matt Antcil, Logan Keslar, Donald C. Shorter Jr., Mark Roland, Terry Lavell and Trevor Downey — instead of the dozen used on Broadway in the '80s and in the 2004 revival. Regardless of their wigs and heels, these are muscular, masculine dancer-singers who deliver amazingly acrobatic performances that are hardly a drag.
[Read Doug Rule and Randy Shulman's interview with stars George Hamilton and Christopher Sieber.]