George Hamilton is in the midst of a storytelling frenzy.
"I was back on the Concorde from London," recalls the Hollywood icon, "and Kirk Douglas is sitting next to me. And he says, 'Jesus, I've never seen you so white.' And I thought, 'God, am I really that pale?' I went in the plane's bathroom and I look in my little bag. I had this auto-bronzer. So every half hour on the trip — it was only three-and-a-half hours — I put on another coat of bronzer. By the time we landed in New York, I looked like Sidney Poitier!"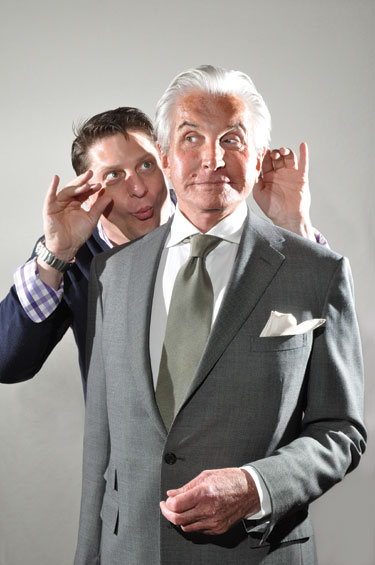 George Hamilton and Christopher Sieber at The Kennedy Center
(Photo by Todd Franson)
In person, the 72-year-old Hamilton doesn't appear to have aged much — he looks sensational — and obviously using bronzer and not the sun to maintain his storied, perpetual tan is a big part of his physical success.
"I saw it happen one time — the secret bronzer technique," marvels Christopher Sieber, who stars opposite Hamilton in the national touring production of La Cage Aux Folles, currently at the Kennedy Center (see review, page 51). "I walked in his dressing room door and his back was to me. His hands were moving across his face. And he turns around, and he's covered in streaks and streaks of brown." Sieber, a master of comic timing, pauses and brings his voice down to a mock-mortified whisper. "I watched it happen!"
The warm chemistry and playful rapport between Hamilton and Sieber is more than obvious as they sit for an exclusive joint interview in a box at the Kennedy Center Eisenhower Theater. And while they may not be lovers in real life – Hamilton isn't gay, Sieber is – it's clear they understand their characters' loving relationship at its core.
Sieber has been a fixture on Broadway for the past decade, earning Tony nominations for playing Lord Farquaad in Shrek the Musical and Sir Dennis Galahad in Monty Python's Spamalot. Hamilton, meanwhile, is a Hollywood screen idol, whose films range from Where The Boys Are to Love at First Bite. "I might have been a small-town doctor," says Hamilton, who grew up in Arkansas, had it not been for his mother and older, gay brother, who strongly encouraged him to pursue an acting career in the 1950s.
Live theater isn't exactly a new arena for Hamilton, either, who last tackled Broadway in Chicago, where he played the role of super-slick lawyer, Billy Flynn, but the part of Georges in La Cage comes with far greater demands than that of Flynn. "It would be easy for me to get a starring role that's in a range where I can just play it easy," he says, "but this is far more challenging."
Written by Jerry Herman and Harvey Fierstein, the musical version of La Cage Aux Folles is based on the classic French play of the same name that spawned two films, including The Birdcage. Hamilton plays the low-key, mild-mannered Georges, owner of a drag club on the Mediterranean where his prone-to-dramatic-flourishes partner Albin, played by Sieber, is the star, who goes by Zaza. The narrative pivots on a visit to the couple's home from the most conservative, anti-gay politician in France. Billy Harrigan Tighe plays the straight son the two men raised.
"The tone and the theme of the show resonates so many years later [but] in a completely different way than it did originally," says the 26-year-old Tighe. Indeed, written 30 years ago, La Cage was ahead of its time – and not just because it features a song — "I Am What I Am" — that became a gay rights anthem. In fact, both composer Herman and the original director Arthur Laurents suffered anxiety about whether the show was too gay for a mainstream America, particularly in a time of homophobic hysteria brought on by the early stages of the AIDS epidemic. So they tamped down anything too suggestive. For instance, Laurents, who died last year, noted in his 2009 memoir Mainly on Directing: Gypsy, West Side Story, and Other Musicals that the original 1983 Tony-winning production ended with Georges and Albin kissing on both cheeks – not the full-on lip smack of the current production. These days, La Cage Aux Folles takes its place of honor as one of the world's gayest musicals. It's also one of the most celebrated, earning Tony Awards for every production to date.
But it all comes down to Georges and Albin, the central relationship that forms the show's heart, powering its core of family ties and the value of love over all.
Tighe says there's something special about the way Hamilton and Sieber portray their characters' relationship and bring to life the show. "To watch them every day," says the actor, "to see the dynamic between the two of them, and interact with them, is an experience I wouldn't trade for anything."
METRO WEEKLY: So, let's start here: How is the experience of working together as a "couple"?
CHRISTOPHER SIEBER: It's exhausting! It's exhausting! He [points to George Hamilton] is such a diva. A pain in the ass. [Laughs.] No, working with George is great. He's wonderful. He's also self-deprecating. Not a diva bone in his body.
GEORGE HAMILTON: [Laughs.] Self-deprecating means I wear Depends?
SIEBER: [Laughs.] I didn't say "self-defecating."
HAMILTON: This is not a marriage made in heaven.
SIEBER: [Laughs.] This was an accident? What?
HAMILTON: It was a total accident how this came about. Truthfully, I was in the process of going to Broadway but I didn't know exactly what I was going to do. I had had a couple of offers, and I hadn't played Broadway since doing Chicago, which Chris was also doing.